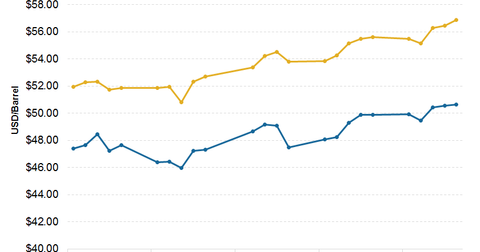 Are Coal Mines Affected by Higher Crude Oil Prices?
By Alexis Tate

Updated
Crude oil prices
On September 22, Brent crude oil prices closed at $56.86 per barrel, compared with the closing price of $55.62 per barrel one week previously.
Meanwhile, WTI (West Texas Intermediate) crude oil prices closed at $50.66 per barrel on September 22, 2017, compared with the previous week's closing price of $49.89 per barrel on September 15.
Article continues below advertisement
The effect of crude oil prices on coal producers
Energy stocks, including coal stocks, follow crude oil prices. Notably, coal and crude oil do not compete with each other, but crude oil prices are still a mixed driver for the US coal (KOL) industry. Companies including Arch Coal (ARCH), Natural Resource Partners (NRP), Cloud Peak Energy (CLD), and Peabody Energy (BTU) are all affected by crude oil prices in many ways, and so crude oil prices remain a significant indicator for coal investors to follow.
How it works
Natural gas production is driven by oil prices, which affect coal because oil is an integral part of the coal mining operations. Operating costs for coal producers will increase if oil prices rise.
At the same time, a decline in crude oil prices is a positive event for coal producers because this often causes a decline in fuel costs for them. US crude oil producers will also reduce their production if oil prices are in a downward trend. This makes rail infrastructure more available for coal transportation.
Still, for the majority of utilities in the US, oil prices are an insignificant indicator, primarily because oil is not the primary fuel used in electricity generation.
For the latest data on coal production, continue to the next part of this series.