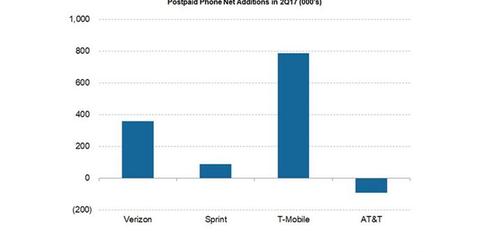 Apple's iPhone X Retriggers Carrier Wars
By Ruchi Gupta

Updated
Two iPhones for the cost of one
It didn't take long after Apple (AAPL) launched its new flagship iPhone X for some top US (SPY) wireless carriers to signal a return to the brutal iPhone price war that hurt profit margins last year.
AT&T (T) couldn't wait this time for the notorious disruptor T-Mobile (TMUS) to beat it to the punch, so it punched first, announcing a generous iPhone promotion that allows customers to walk away with two new iPhones for the price of one.
AT&T's buy-one-get-one-free promotion applies to iPhone 8 and iPhone 8 Plus—the two other new iPhone models that Apple just launched alongside the iPhone X and other devices. The iPhone 8 Series is an upgrade to the iPhone 7, which Apple launched last year.
Article continues below advertisement
The iPhone X starts at $999
After a fierce price war that ate into profit margins in 2016, top US wireless carriers appeared to have learned their lesson, until Apple showed up with a range of new devices. This year marked the first time that Apple has launched three different iPhone models at once. The iPhone X is the most expensive, starting at $999, compared with the starting price of $699 for the iPhone 8.
Turf wars in US wireless market
To counter AT&T's generous iPhone promotion, T-Mobile, Verizon Communications (VZ), and Sprint (S) have come up with their own generous iPhone trade-in offers. Verizon, for instance, is giving up to $300 trade-in credit toward the purchase of the iPhone 8.
But given the stiff competition in the US wireless market, a return to iPhone price wars would be more about defending turf than expanding it.