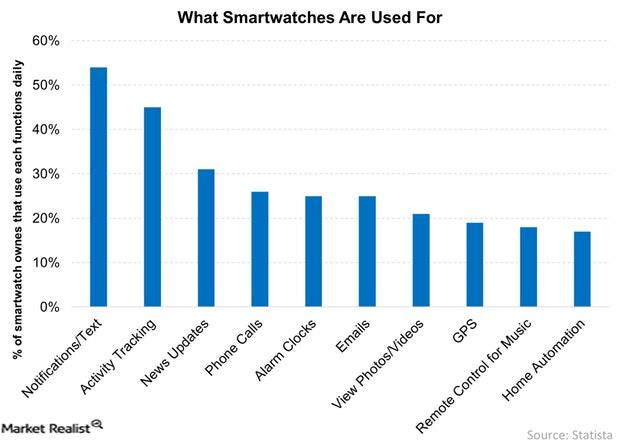 Why Apple Could Continue to Dominate the Smartwatch Industry
By Sanmit Amin

Sep. 8 2017, Published 5:51 p.m. ET
New Smartwatches will be unveiled soon
Apple (AAPL), Samsung (SSNLF), Garmin (GRMN), and Fitbit (FIT) are all launching Smartwatches in the next couple of months, with the third version of Apple Watch likely to be unveiled next week.
While the Smartwatch industry is in its nascent stages, it hasn't yet proven to be a popular one. According to IDC Research estimates, as of 2Q17, Smartwatch sales still make up only a small fraction of Smartphone shipments.
Article continues below advertisement
However, with more competitors eyeing a share of the already crowded market, Smartwatches are likely to get cheaper and gain more features and apps, which could improve their appeal.  According to new IDC Research estimates, the wearable industry (WEAR), which includes Smartwatches, grew by 10.5% between 2Q16 and 2Q17.
Apple could continue to dominate
Apple is leading the Smartwatch space, and according to CCS Insight, the tech giant will have more than 50% of the Smartwatch pie in 2017. Apple Watch is widely expected to come with LTE (long-term evolution) connectivity, and could thereby be less dependent on the iPhone.
No other Smartwatches offer cellular connectivity yet. According to IDC Research estimates, Apple stands in second place in the wearable market, marginally ahead of Fitbit in third place and narrowly behind Xiaomi, which has taken first place.
According to a Statista survey of over 5,000 US consumers, most features used by Smartwatch consumers are quite basic. Therefore, Smartwatch makers may need to add a few features to increase their products' appeal. New Fitbit and Garmin Smartwatches will be able to pay for transactions and are likely to come with additional health-tracking features. Fitbit will be counting on its new Smartwatch, Ionic, to save its dwindling fortunes.