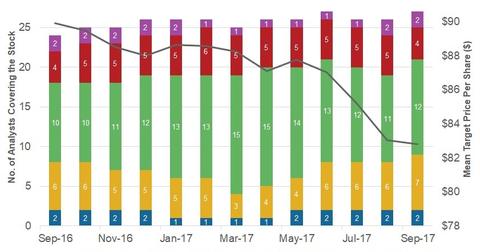 Analyst Ratings for ExxonMobil: Not Loved, but Not the Worst
By Maitali Ramkumar

Updated
Analyst ratings for XOM
In the previous part of this series, we looked at analyst ratings for Petrobras (PBR). Now we'll look at ratings for ExxonMobil (XOM), the company in the ninth spot on the list of the top ten integrated energy stocks with the most "buy" ratings. XOM is an American integrated energy company with upstream, downstream, and chemicals business segments. The company has the largest market capitalization of $337.0 billion among the ten companies in this series.
Article continues below advertisement
The analyst rating graph above shows that nine (or 33.0%) of the 27 analysts covering XOM have rated it a "buy" in September 2017. Another 12 analysts (or 44.0%) have rated it a "hold." The remaining six analysts have rated it a "sell" or "strong sell." Chevron (CVX), BP (BP), and Royal Dutch Shell (RDS.A) have "buy" ratings of 65.0%, 50.0%, and 91.0%, respectively. We've looked at these companies in the previous parts of this series.
Analyst ratings for ExxonMobil have changed in September 2017 over September 2016, resulting in a mixed trend. While XOM has more "buy" ratings in September 2017, the company also has more "hold" ratings in the month compared to the same month last year. However, during the same period, its mean target price has fallen 8.0% to $83 per share. Its mean price target implies a rise of 4.0% from the current level. The implied gains have widened due to a steeper fall in XOM stock (by 9.0%) compared to the fall in its mean target price (by 8.0%) in the past year.
ExxonMobil stock has fallen 1.5% in 3Q17 (since July 3). In fact, it's one of the few integrated energy stocks to see a fall in its stock price in the current quarter.
Valuations
XOM trades at a forward PE (price-to-earnings) multiple of 21.5x, which is below the average of 22.8x. But XOM trades at 8.8x for its forward EV-to-EBITDA (enterprise value to earnings before interest, tax, depreciation, and amortization) multiple, which is above the peer average of 6.3x. ExxonMobil (XOM) is a financially strong company with a comfortable leverage and a good liquidity position. Its total-debt-to-total-capital ratio stands at 18.0%. Comparatively, CVX, Shell, and BP have ratios of 23.0%, 32.0%, and 39.0%, respectively. XOM has an excess cash flow from operations after covering its capex (capital expenditure) and dividend payments. In the first half of 2017, XOM's excess cash flow was 18.0% as a percentage of cash flow from operations.
For more on leading integrated energy companies' leverages and cash flows, please refer to Integrated Energy Companies and Their Leverages in 2Q17.
In the next part of this series, we'll look at analyst ratings for Total (TOT), the company with the lowest "buy" ratings.