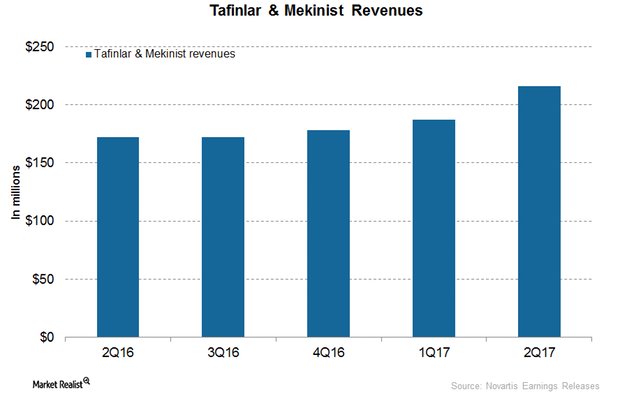 An Update on Novartis's Tafinlar and Mekinist post 1H17
By Daniel Collins

Sep. 19 2017, Updated 8:08 a.m. ET
Tafinlar and Mekinist revenue trends
In 1H17, Novartis's (NVS) Tafinlar and Mekinist reported revenues of around $403 million, which reflected ~25% growth on a year-over-year (or YoY) basis. In 2Q17, Tafinlar and Mekinist generated revenues of around $216 million, which reflected ~26% growth on a YoY basis and ~16% growth on a quarter-over-quarter basis.
The above chart represents the revenue curve of Tafinlar and Mekinist from 2Q16 to 2Q17.
Article continues below advertisement
Recent approval
In June 2017, Novartis's Tafinlar and Mekinist received U.S. Food and Drug Administration (or FDA) approval for treatment of metastatic non-small cell lung cancer (or NSCLC) patients whose cancer cells express the BRAF V600E mutation.
In the phase 2 trial, based on which the FDA approval was granted, 36 treatment-naïve patients were administered Tafinlar 150mg and Mekinist 2mg combination therapy daily. Among treatment naïve patients, 64% achieved an overall response rate (or ORR). At 15.8 months, the combination therapy demonstrated median progression-free survival (or PFS) of 10.9 months, a median duration response of 10.4 months, and a median overall survival of 24.6 months.
In September 2017, Novartis presented the results of the phase 3 COMBI-AD study. The COMBI-AD trial evaluated the safety and efficacy of Tafinlar and Mekinist combination therapy compared to a placebo in individuals with stage III BRAF V600E/K-mutant melanoma who did not have any previous anti-cancer therapy. The COMBI-AD trial demonstrated that patients on Tafinlar and Mekinist combination therapy had superior efficacy statistics compared to patients on a placebo. In the COMBI-AD trial, the Tafinlar and Mekinist combination therapy demonstrated an estimated one-year, two-year, and three-year RFS (relapse-free survival) of 88%, 67%, and 58%, respectively, compared to 56%, 44%, and 39% for patients receiving the placebo.
The superior statistics from the clinical trials could strengthen the commercialization capabilities of Tafinlar and Mekinist combination therapy. In the melanoma drugs market, Novartis's Tafinlar and Mekinist compete with Bristol-Myers Squibb's (BMY) Opdivo, Roche's (RHHBY) Cotellic and Zelboraf, and Merck's (MRK) Keytruda. The growth in sales of Novartis' Talfinar and Mekinist combination therapy could boost the share prices of the Vanguard FTSE All-World ex-US ETF (VEU). Novartis makes up about ~1.9% of VEU's total portfolio holdings.