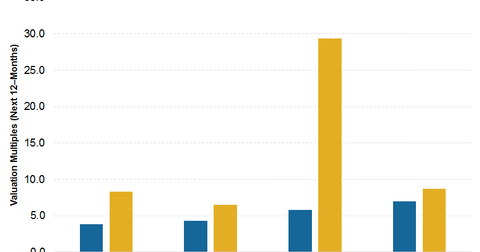 An Investor's Guide to Arch Coal's Valuation
By Alexis Tate

Sep. 26 2017, Published 12:02 p.m. ET
Arch Coal's valuation methods
There are many varieties of valuation methods available to value a coal producer like Arch Coal (ARCH). Valuing a mining company is a complex matter. Apart from the usual financing risk in the case of coal producers, other factors include price cyclicality, ongoing changes in operating and capital cost structures, stock market vagaries, and volatility in the circumstances.
We believe it is best to use a combination of valuation multiples and discounted cash flow to value the company. First, let's use a relative valuation method based on Arch Coal's valuation multiples. We'll discuss the DCF (discount cash flow) valuation method later.
Article continues below advertisement
Forward EV-to-EBITDA
The EV-to-EBITDA multiple is an important relative valuation multiple. It's used in capital-intensive industries such as the coal (KOL) mining industry and the automotive industry.
On September 18, 2017, Arch had a forward EV-to-EBITDA multiple of 3.8x for the next 12 months. This is lower than the valuation multiples of its peers, including Alliance Resource Partners' (ARLP) ~4.3x, CNX Coal Resources' (CNXC) ~5.8x, and CONSOL Energy's (CNX) ~7.0x for the same period. However, it was higher than Peabody Energy's (BTU) ~3.5x.
Forward price-to-earnings multiple
The forward PE (price-to-earnings) multiple takes into account the equity portion of a company. On September 18, 2017, Arch Coal's forward PE ratio, based on earnings forecasts for the next 12 months, stood at ~8.3x. This PE ratio was lower than CONSOL Energy's (CNX) ~29.4x and CNX Coal Resources' (CNXC) 8.70. It is also lower than Alliance Resource Partners' (ARLP) ~6.5x.
Discounted cash flow method
According to the latest company filings, Arch Coal uses the DCF method to determine its valuation. However, since the company has just emerged from bankruptcy, the appropriateness of the DCF method for valuing Arch Coal's business is debatable. The cyclical nature of the coal industry could be a challenge when using the DCF method to value the company.