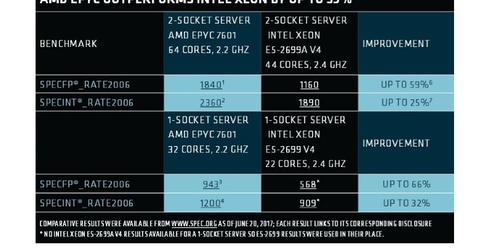 AMD Seeks an Epic Battle with Intel with Its Epyc Chip
By Ruchi Gupta

Updated
AMD's Epyc takes on Intel
For several years, Advanced Micro Devices (AMD) has been working to retool its portfolio of chips, ranging from desktop processors to server chips. The company has started releasing its radically redesigned new chips to the market. The first move was with the Ryzen chip for desktop computers and in June, it introduced its Epyc chip for data centers.
With its Epyc chip, AMD is eyeing the lucrative server processor market that is closely held by Intel (INTC). AMD has made bold claims about its Epyc chip, suggesting that it has finally brought to market a robust competitor to Intel in the data center processor market.
Article continues below advertisement
Performance and cost
For example, AMD has claimed that its Epyc chips deliver performance of up to 59% against comparable Intel chips. However, AMD is out to squeeze Intel in more than one way in the battle for the data server chip market. 
In addition to making higher performance claims, AMD added that its chips cost less than comparable chips from Intel, suggesting that it is ready to wage a price war with Intel.
Epyc chip endorsements
Apart from touting the performance and affordability of its Epyc chip, AMD also released several endorsements for the chip. For example, Hewlett Packard Enterprise (HPE), Microsoft (MSFT), Dell Technologies (DVMT), Lenovo, and Baidu (BIDU) are among the companies that have committed to adopting Epyc in their data centers.
For Intel, losing its tight hold on the server chip market could hamper its efforts to utilize data centers for a turnaround effort, due to weakness in its core personal computer processor business.