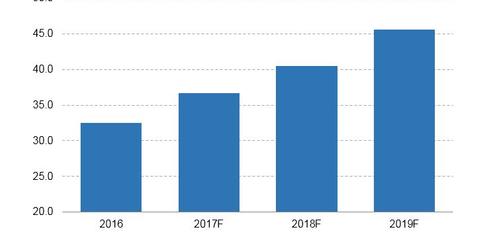 Amazon Starts to Show Its Advertising Claws
By Neha Gupta

Updated
Amazon automates its ad selling platform
Amazon (AMZN) is stepping up its campaign for online advertising dollars with a few noteworthy adjustments to its ad formats. According to technology news publisher Digiday, Amazon has automated its ad selling process and has also pushed further into the search ad business.
Automated or programmatic ad selling is a self-serve ad buying process. It simplifies ad buying and gives advertisers more control over their ads. Facebook (FB), Alphabet's (GOOGL) Google, and Snap (SNAP) use self-serve ad selling methods and appear happy with them.
Snap, for instance, said in its 2Q17 earnings report that programmatic ads are boosting its advertiser traction. The company's advertising sales grew by triple digits in the quarter that ended in June.
Article continues below advertisement
Amazon taking on Google with search ads
Besides automating its ad buying process, Amazon is also expanding its headline search ads format. These are the kind of ads that appear on top of a product search result page—an area that Google has dominated.
According to eMarketer, Google held 75.8% of the search ad market in 2016, a share that's expected to grow to 77.8% and then to over 80% by 2019. Search ad sales are projected to top $45.6 billion by 2019, as the chart above shows.
The adjustments Amazon has made to its advertising business can be viewed as part of the efforts the company is undertaking to diversify its revenue streams (QQQ). Though Amazon is a top cloud computing provider, it still relies on e-commerce for the majority of its revenue.
Amazon stirs the advertising waters
For Facebook and Google, Amazon's expansion in the online advertising market is a serious threat. Not only does Amazon's move raise competition for online ad dollars, but Amazon is also uniquely positioned to attract brand advertisers since people who visit Amazon.com are usually in a purchasing mindset.