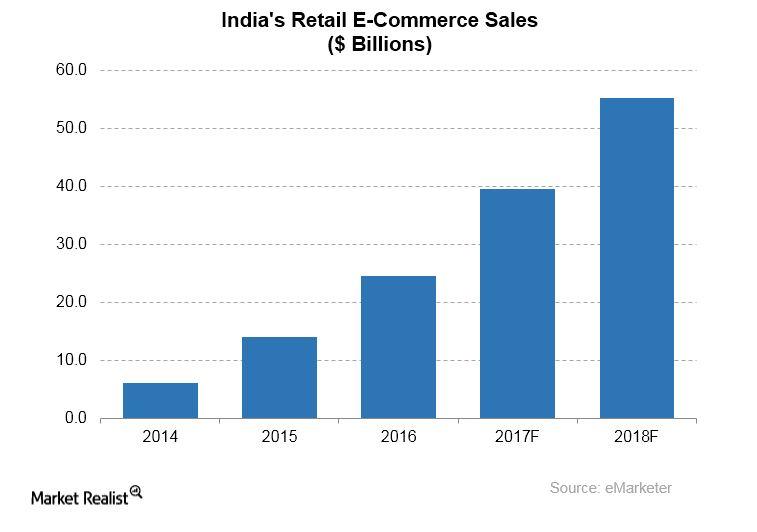 Amazon India: What's the Path to Profits?
Cost-cutting push
Amazon (AMZN) has adopted a cost-cutting initiative called Get Fit. According to reports, Amazon has identified a number of ways to cut costs so it can have a clear path to profits by 2019. The Get Fit initiative could see Amazon cut packaging costs, reduce marketing expenses, trim price discounts, increase warehouse automation, and improve the efficiency of its order delivery system.
Amazon hopes it can make these profit-oriented changes without hurting its growth in India, one of the international markets the company is expecting to drive its future growth. Amazon is investing $5.0 billion to grow its business in India (INDA).
Article continues below advertisement
Amazon eyeing $55 billion revenue opportunity
Amazon's challengers in India's e-commerce industry include Flipkart, Snapdeal, and Paytm. Flipkart counts eBay (EBAY), Microsoft (MSFT), and Tencent (TCEHY) among its backers.
Paytm is supported by Alibaba (BABA). India's e-commerce industry is projected to expand to $55.3 billion by 2018, according to market intelligence firm eMarketer. The industry was valued at $6.1 billion in 2014, as you can see in the above chart.
Amazon's international operating loss increases
Although Amazon is confident that its Indian push will pay off in the long run, it wants its Indian team to start showing a path to profitability.
Amazon's international sales rose 22.0% (excluding the foreign exchange impact) to $11.5 billion in 2Q17. But soaring costs due to elevated spending in markets such as India saw the company's international operating loss increase 438.0% year-over-year to $724.0 million in 2Q17.