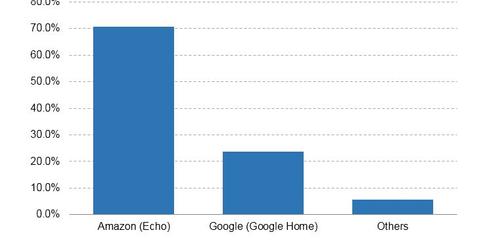 Amazon and Microsoft to Collaborate in Voice Computing
By Neha Gupta

Updated
Alexa finds a buddy in Cortana
Amazon (AMZN) and Microsoft (MSFT) have decided to collaborate in voice computing. The companies said their respective voice-controlled assistants would be able to work together to benefit customers.
Amazon has the Alexa voice assistant, which powers its famous Echo smart speaker—a device that lets users control lights in their homes and shop online through verbal commands. Microsoft has the Cortana voice assistant, which works with Windows 10 computers and Xbox One consoles to support voice instructions.
Article continues below advertisement
Vying for a $137.9 billion market
By joining forces in the voice computing space, Amazon and Microsoft hope to tap into the strength of each other's voice assistants as they pursue revenue opportunities in emerging technology fields. Markets and Markets projects that the smart home systems market will be worth $137.9 billion by 2023.
As the chart above shows, Amazon has the lion's share of the US (SPY) market for voice-controlled speakers, according to eMarketer. But Amazon faces tough competition in this market.
Slowing rivals' progress
The voice computing collaboration between Amazon and Microsoft is likely to present a tough challenge for Apple (AAPL) and Alphabet's (GOOGL) Google, which are also eyeing the smart home systems market. Google has a voice-controlled smart speaker called Google Home while Apple has HomePod—which goes to market later this year.
The voice computing market is heating up as Amazon, Microsoft, Apple, and Google hunt for new revenue opportunities outside their respective strongholds. Google, for instance, faces stiff competition in its core online advertising industry.