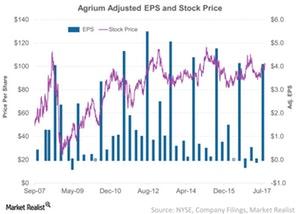 Agrium Has Significantly Outperformed the S&P 500
By Adam Jones

Updated
Agrium
Agrium (AGU) is one of the largest retailers of NPK (nitrogen, phosphorous, and potassium) fertilizers in North America. The company boasts about 2,500 retail locations in North America (MXI), giving it a diversified base. This diversification may explain why the company's stock has had a stable run in the past compared to other fertilizer companies that only have a wholesale business model.
Agrium also has its own NPK production facilities and is one of the three partners in the potash marketing and distribution consortium known as Canpotex. The other two partners are PotashCorp (POT) and Mosaic (MOS).
Article continues below advertisement
Agrium's performance
Over the past ten-year period, Agrium has risen 148.3% and significantly outperformed the S&P 500 Index's rise of 69.2% over the same period. In the above chart, we see that the stock took a deep dive in 2008 but recovered in the next five years. Since then, the stock has mainly moved sideways.
Agrium has also delivered a dividend yield growth. Just ten years ago, its dividend yield was 0.11%, which gradually rose to 3.6% in 2017.
However, considering the recent five-year period, the stock has risen 15.5% compared to the S&P 500 Index, which has risen 70.3%.
Why the weakness?
The stock continues to face pressures from the weakness in the agribusiness environment. Unlike CF Industries (CF) and Mosaic, about 80.0% of Agrium's sales come from its retail segment. Comparable store sales growth is one of the best measures to understand the performance of the retail segment. The company last had a positive comparable store sales growth year-over-year in 2012. In each of the following years, it reported a negative comparable store sales growth annually.
Price and volume are key to the growth of comparable store sales growth, but falling fertilizer prices have dampened the performance of Agrium's growth.
The next few quarters
Agrium is set to merge with PotashCorp. The combined company will be called Nutrien. Recently, Agrium provided an update on the progress of the merger, which is expected to be completed by the end of 2017. To know more, read An Update on the PotashCorp and Agrium Merger.