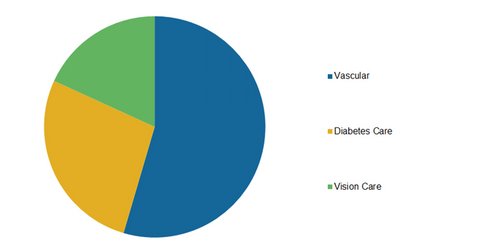 Abbott Gets UK Reimbursement Approval for Freestyle Libre
By Sarah Collins

Updated
Approval for Freestyle Libre
On September 13, 2017, Abbott Laboratories (ABT) announced the reimbursement approval of its Freestyle Libre system by the NHS (National Health Service) Business Services Authority in the United Kingdom. It will be available for reimbursement on November 1, 2017, for diabetes patients using insulin across England and Wales and through Health and Social Care in Northern Ireland and NHS Scotland.
The device forms part of the diabetes business division of Abbott Laboratories. It has a CE Marking and approval for the professional version in the United States. The FDA (U.S. Food & Drug Administration) is currently reviewing the consumer version. The device is available in 41 countries around the world and has been approved for reimbursement in 17 countries, including Japan, Germany, and France.
ABT stock fell 0.55% on September 13, 2017. That day, the Vanguard Total Stock Market ETF (VTI) rose 0.05%. ABT makes up 0.35% of VTI's total holdings.
Article continues below advertisement
Device description
Freestyle Libre is a sensor-based CGM (continuous glucose monitoring) system. It continuously monitors a patient's glucose levels for up to 14 days and evaluates the records. It doesn't need system calibration with finger sticks like other competing CGMs in the market. Some of the companies that manufacture competing devices include DexCom (DXCM), Johnson & Johnson (JNJ), and Medtronic (MDT).
According to Neil Harris, general manager of Abbott's UK diabetes care business, "The FreeStyle Libre system has been shown to offer life-changing improvements for people with diabetes to help them live healthier and fuller lives. We are delighted with the NHS decision, and we look forward to partnering with them to provide people with diabetes our innovative technology to help manage their condition."