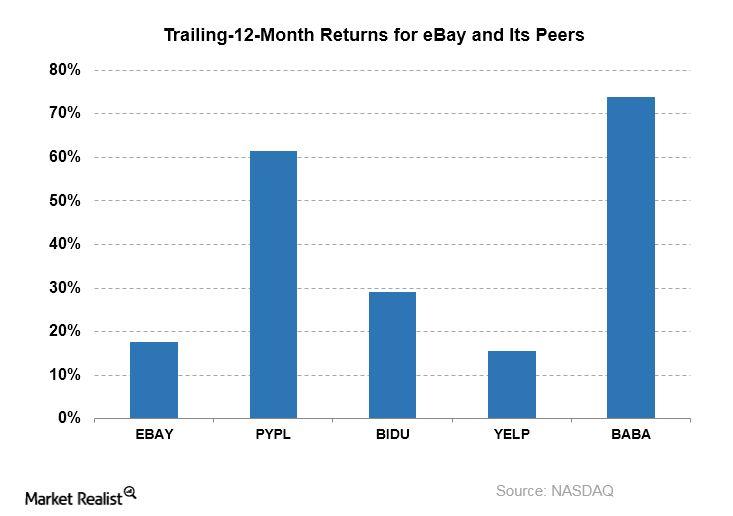 A Quick Survey of eBay Stock
By Neha Gupta

Aug. 18 2020, Updated 5:28 a.m. ET
Shareholder returns and stock trends
eBay (EBAY) generated investor returns of 8.9% in the trailing-one-month period and 17.5% in the trailing-12-month period. The company's stock price gained 5.8% in the trailing-five-day period.
Among eBay's peers in the Internet sector, PayPal (PYPL), Baidu (BIDU), Yelp (YELP), and Alibaba (BABA) generated returns of 61.4%, 29.0%, 15.6%, and 73.9%, respectively, in the trailing-12-month period.
Article continues below advertisement
Relative strength index
For the last 14 days, eBay reported a relative strength index (or RSI) of 85. Among eBay's peers, PayPal, Baidu, Yelp, and Alibaba recorded RSI readings of 63, 62, 79, and 52, respectively, within the same period. The RSI measures the speed and change at which stock prices move.
Examining eBay's cash flow metrics
eBay has $8.9 billion of cash in hand. Its price-to-cash-flow and price-to-free-cash-flow multiples are 15.1x and 19.8x, respectively.
For the trailing 12 months, the company's EV-to-cash-flow multiple was 16.0x, and its EV-to-free-cash-flow multiple was 20.9x.
Article continues below advertisement
A look at eBay's debt position
eBay's balance sheet reflects total debt of $11.5 billion. The company reported total capital of ~$22.9 billion. Its total-debt-to-total-capital ratio is 50%.
eBay's debt-to-assets, debt-to-equity, and debt-to-EBITDA[1. earnings before interest, tax, depreciation, and amortization] ratios are 0.42, 99.93, and 3.98, respectively.
eBay's EBIT-to-interest multiple is 10.3x. This metric provides insight into a company's ability to pay interest on its outstanding debt, and it refers to the call interest coverage ratio. eBay has a debt-to-enterprise value of 26%.
Inside eBay's price and valuation multiples
eBay's current book value per share of $10.70 compares with its expected book value per share of $10.10. eBay stock is trading at a price-to-book value of 3.6x.
The company's price-to-sales multiple of 4.5x is slightly higher than its estimated price-to-sales multiple of 4.3x.
Article continues below advertisement
Market capitalization
On September 12, eBay was the world's fourth-largest Internet player in terms of market capitalization at ~$40.9 billion. In comparison, its peers had the following market cap levels on the same day:
PayPal: ~$75.2 billion
Baidu: ~$82.4 billion
Yelp: ~$3.6 billion
Alibaba: ~$449.0 billion
eBay's credit rating
Moody's latest rating on eBay's debt is Baa1. eBay also has an S&P debt rating and debt outlook of BBB+ and "stable," respectively.