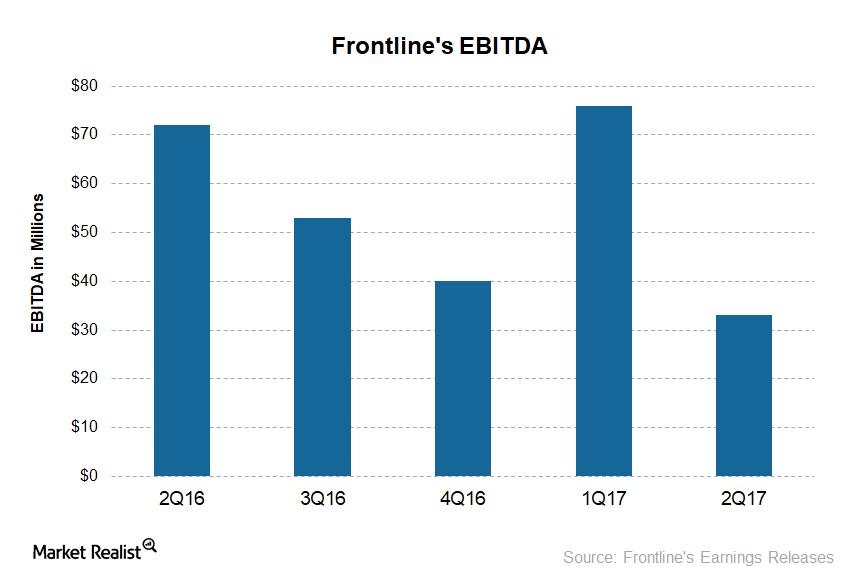 A Look at Frontline's 2Q17 Costs and Earnings
By Sue Goodridge

Sep. 11 2017, Updated 10:37 a.m. ET
Frontline's 2Q17 costs
Frontline's (FRO) cash costs primarily include vessel operating expenses and voyage expenses. In 2Q17, the company's vessel operating expenses comprised ~27% of its total operating expenses, while its voyage expenses totaled 43% of its total operating expenses.
Article continues below advertisement
2Q17 costs
Frontline's (FRO) vessel operating expenses increased by $6.9 million from 1Q17 to $37.5 million in 2Q17. The rise in expenses was mainly to due to the dry docking of five vessels and the delivery of five new vessels in 2Q17.
In 1Q17, one vessel was dry docked. Frontline's voyage expenses totaled $60.0 million in 2Q17 compared to $31.0 million in 2Q16 and $55.0 million in 1Q17.
Crude tanker companies such as DHT Holdings (DHT), Tsakos Energy Navigation (TNP), Euronav (EURN), Teekay Tankers (TNK), and Nordic American Tanker (NAT) have capital-intensive businesses that incur significant depreciation expenses.
Frontline's depreciation expenses account for almost 25% of its total operating expenses. This makes it important to assess the company's EBITDA[1. earnings before interest, tax, depreciation, and amortization] more deeply than its net profit.
2Q17 EBITDA
Frontline's EBITDA dropped significantly in 2Q17 compared to 1Q17 and 2Q16, as you can see in the chart above. The company recorded EBITDA of $33.4 million in 2Q17. Compared to 2Q16, Frontline's EBITDA fell 54%. Its EBITDA is down 56% from the previous quarter's $76.0 million.
Other than depreciation, Frontline had a variety of other non-cash charges. These charges include a loss on the termination of long-term charters of Front Scilla and Front Brabant and a loss on derivatives. After adjusting for these non-cash charges, Frontline's adjusted EBITDA was $37 million, which is equivalent to $0.08 per share.