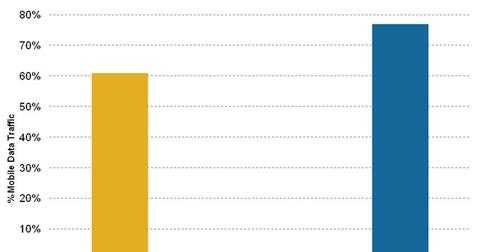 A Look at Dish Network's 5G Strategy
By Shirley Pelts

Sep. 8 2017, Updated 8:06 a.m. ET
Dish Network's 5G strategy
Fifth-generation (or 5G) technology is generating some buzz in the telecommunications and media industry. Industry observers expect this technology could provide wireless speeds that are ten to 100 times faster than 4G (fourth-generation) technology.
Dish Network (DISH) stated that while telecommunication companies like Verizon Communications (VZ) and AT&T (T) are concentrating on millimeter blocks of the 5G spectrum, DISH Network (DISH) is focused on the low and mid-bands of the 5G spectrum.
Dish Network expects its 5G network to become operational by 2020–2021. Dish noted that its costs of building out a 5G network would be lower than building out a 4G network. The company expects to require fewer tower sites for 5G, which would provide more coverage from a single tower site.
Dish Network wants its 5G network to be an IP-based network, which would reduce its costs. Dish plans to focus on the low and mid-bands in 5G because it believes that these bands have better propagation.
Article continues below advertisement
Comcast's 5G plans
Dish's peer Comcast (CMCSA) is still in the process of testing its 5G technology over coaxial and fiber optic cable. Comcast views 5G technology as a significant business opportunity that could be profitable for the company in the long term.
A major reason for the focus on 5G technology is the rise in mobile video traffic. According to Cisco Systems' (CSCO) mobile report, video could comprise 77% of mobile data traffic in the United States (SPY) by 2020.