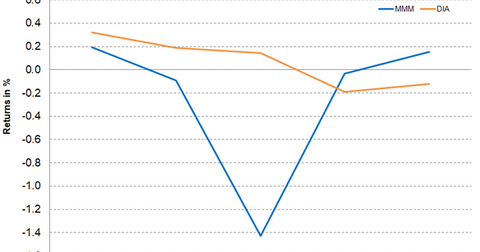 3M Offers New Notes, Announces Cash Tenders
By Peter Neil

Sep. 25 2017, Published 2:05 p.m. ET
3M's debt offer and cash tender
3M's (MMM) SEC (U.S. Securities and Exchange Commission) filings on September 22, 2017, indicate that MMM is offering the following three notes:
$650.0 million notes carrying a coupon rate of 2.25% due in 2023
$850.0 million notes carrying a coupon rate of 2.875% due in 2027
$500.0 million notes carrying a coupon rate of 3.625% due in 2047
The coupon rates on these notes will be paid semi-annually. 3M will use the excess funds to finance the earlier announced acquisition of Scott Safety and for general corporate purposes. It will use the net proceeds from this offer to redeem up to $400.0 million of its outstanding debt of 6.375% unsecured company-issued loan certificates due in 2028 and 5.7% notes due in 2037 via cash tender offer. The tender offer will close on October 19, 2017, at midnight EST. The partial redemption of higher coupon rate bonds might reduce 3M's interest expense.
Article continues below advertisement
3M stock in previous week
MMM stock fell 1.2% and closed at $210.76 for the week ended September 22, 2017. Despite the fall, 3M traded 2.4% above the 100-day moving average price of $205.91, indicating an upward trend in the stock. On a year-to-date basis, the stock has risen 18.4%. It has exceeded analysts' estimated target price of $205.10. 3M's 14-day RSI (relative strength index) of 60 indicates that the stock is neither overbought nor oversold.
MMM underperformed the SPDR Dow Jones Industrial Average ETF (DIA), which rose 0.30% for the same period. DIA has invested 6.5% of its portfolio in MMM. The other holdings of the fund include Boeing (BA), Goldman Sachs (GS), and Home Depot (HD) with weights of 7.9%, 7.1%, and 4.9%, respectively, as of September 12, 2017.