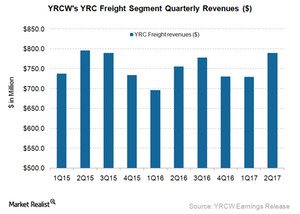 YRC Worldwide's YRC Freight Segment: What Drove 2Q17 Revenues?
By Samuel Prince

Updated
YRC Freight's 2Q17 results
In 2Q17, YRC Worldwide's (YRCW) YRC Freight segment accounted for 62.6% of YRCW's operating revenues of $1.26 billion. In 2Q17, the YRC Freight segment reported a 4.6% rise in 2Q17 revenues to $789.5 million, from $755.0 million in the second quarter last year. You should note that the segment operated with 63.5 work days in 2Q17 compared to 64 work days in 2Q16.
The segmental revenues rose mainly due to higher volumes and fuel surcharge revenues. Better yield without the fuel surcharge revenue also boosted YRC Freight's revenues in 2Q17.
Article continues below advertisement
YRC Freight's statistics in 2Q17
In the second quarter of 2017, YRC Freight's per-day tons rose 2.7% on a year-over-year basis compared to a rise of 6.2% in April and 3.3% in May. However, it fell 1.0% in June. In 2Q17, the segment's revenue per hundredweight, without a fuel surcharge, rose 1.1%.
Revenue per hundredweight with a fuel surcharge rose 2.2% in the second quarter of 2017. The segment registered a slight fall of 0.10% in revenue per shipment, excluding the fuel surcharge. However, it rose 1.0% with the fuel surcharge included. The only parameter in which the YRC Freight segment underperformed was the total weight per shipment in pounds, which fell 1.2% in 2Q17.
Management insights
YRC Worldwide expects better yields in the YRC Freight segment in the rest of 2017 with its cost-cutting measures. The company systematically lowered its exposure to third-party logistics and truckload tonnage. With this, YRCW aims to focus on its core LTL (less-than-truckload) customers in the YRC Freight segment. It anticipates strength in the truckload market, which would also improve LTL pricing in the second half of 2017.
Note that with further improvement in LTL pricing, YRC Freight's pricing should improve going forward. Along with YRCW, its peers such as Old Dominion Freight Lines (ODFL), XPO Logistics (XPO), and United Parcel Service (UPS) should also witness top-line growth in the coming quarters.
Investing in an ETF
The transportation sector might pick up going forward with the rise in overall commodity prices. Investors interested in an exposure to logistics stocks can consider investing in the iShares Transportation Average (IYT). Major trucking companies and railroads make up 10.3% and 24.2%, respectively, of the portfolio holdings of IYT.
Next, let's take a look at YRCW's Regional Transportation segment's 2Q17 results.