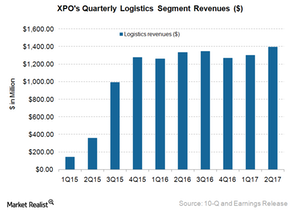 XPO Logistics: Why Transportation Revenues Declined in 2Q17
By Samuel Prince

Aug. 9 2017, Updated 5:06 p.m. ET
XPO's 2Q17 Transportation revenues
Earlier, we looked at the overall 2Q17 revenues for XPO Logistics (XPO). In this part, we'll analyze the performance of XPO's Transportation segment in the reported second quarter of 2017. The Transportation segment's operating revenues shrank marginally by 0.60% to $2.4 billion in the second quarter of 2017, almost the same level as 2Q16. On a sequential basis, the segment posted a 5.6% growth in revenues.
Article continues below advertisement
Transportation segment's 2Q17 revenue
XPO Logistics' Transportation segment is divided into North America and Europe, based on geography. The company witnessed a 5.2% rise in Transportation vertical revenues, excluding divestitures. In less-than-truckload (IYJ), XPO's 2Q17 revenues rose 7.0%.
In less-than-truckload, tonnage per day rose 7.1% year-over-year in the reported second quarter of 2017 compared to 4.8% in 2Q16. Shipments rose 3.2% along with a 3.8% rise in weight per shipment due to heavier freight. However, XPO's revenue per hundredweight metric, excluding fuel, fell 0.30% in 2Q17.
XPO Logistics was able to derive a 4.5% hike in pricing on similar type contract renewals in the second quarter. In XPO's Last Mile, the company's quarterly revenues rose 14.8%. That was due to increased shipments in its e-commerce (EBAY) network. The company's European Transportation revenues fell 5.1% to $615.0 million in 2Q17.
Management outlook
Based on July 2017 statistics, XPO Logistics expects the revenue per hundredweight trends to rise further in the second half of 2017. The company is also bullish on e-commerce trends of rising online sales of heavier goods. XPO anticipates maintaining robust net revenue margins of 30.0% or more in the Last Mile business.
XPO will expand its Last Mile network with an addition of ten new hubs by the end of 2017. That should total 55 Last Mile hubs across the United States by the end of the year and 85 hubs by December 2018. According to XPO Logistics, the Last Mile business linked with e-commerce (AMZN) is slated to grow 13.0%–19.0% worldwide next year.
In fiscal 2017, the Transportation (YRCW) vertical is projected to contribute 63.0% of the forecast $15.0 billion in revenues. XPO anticipates more positive macroeconomic conditions in Europe compared to North America.
In the next part of this series, we'll give you an update on XPO's Logistics segment performance in 2Q17.