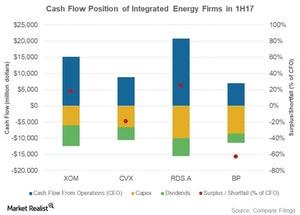 XOM, CVX, RDS.A, BP: Who Had Better Cash Flows in 1H17?
By Maitali Ramkumar

Updated
Integrated energy companies' cash flow surplus or shortfall
Integrated energy companies have borne the brunt of lower oil prices in the past few years. However, oil prices have now improved, leading to better cash flows for integrated energy companies. In such a scenario, let's analyze how much cash flow from operations cover vital capex (capital expenditure) and indispensable dividend outflows.
In the above graph, you can see cash flows in order to calculate how much surplus or short cash flow is from operations in covering capex and dividend outflows. ExxonMobil's (XOM) CFO (cash flow from operations) in the first half of 2017 was $15.1 billion, but capex and dividend outflows were $6.0 billion and $6.4 billion, respectively. So the surplus in cash flow was $2.7 billion.
Article continues below advertisement
Integrated energy companies' cash flow comparison
The situation of surplus or shortfall varies among integrated energy companies. So to compare them, we've estimated the surplus or shortfall as a percentage of earning capacity in terms of CFO. XOM's cash flow surplus stood at 18.0% of CFO in the first half of 2017.
Comparatively, Royal Dutch Shell's (RDS.A) surplus was 25.0% of CFO. That shows that Shell's surplus as a percentage of its earnings capacity was above XOM, placing Shell in a better position. That's because in the first half of 2017, Shell's dividend outflows were lower than XOM's. Also, in terms of inflows, Shell's CFO was higher than XOM's.
But Chevron (CVX) and BP (BP) posted a shortfall as a percentage of earnings capacity. Shortfalls for CVX and BP were 19.0% and 63.0% of CFO, respectively. The mere size of the shortfall of BP compared to CVX suggests that CVX is better placed than BP despite the shortfall. For more on BP's cash flow position, you can refer to Understanding BP's Cash Flow Trend in 1H17.
So a cash flow analysis of integrated energy companies reveals that Royal Dutch Shell (RDS.A), with the highest cash flow surplus, has a better liquidity position than its peers.
In the next part of this series, we'll look in detail at capex outflows in the quarter.