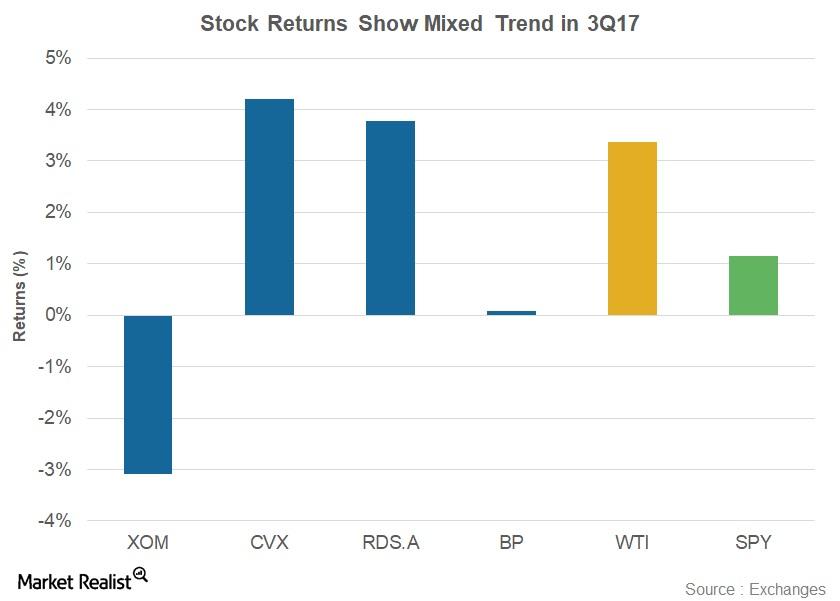 XOM, CVX, RDS.A, BP: Integrated Energy Stocks Compared to SPY
By Maitali Ramkumar

Nov. 20 2020, Updated 5:23 p.m. ET
Performance of integrated energy stocks
So far in 3Q17, Chevron (CVX) stock has risen 4.2%, the highest among its peers ExxonMobil (XOM), BP (BP), and Royal Dutch Shell (RDS.A). Shell and BP have risen 3.8% and 0.10%, respectively, in the same period. However, XOM has fallen 3.1%.
The SPDR S&P 500 ETF (SPY) and the SPDR Dow Jones Industrial Average ETF (DIA) rose 1.1% and 2.9%, respectively, in the same period. Integrated energy stocks such as CVX and Shell have thus outperformed the market in 3Q17. BP and XOM have underperformed the market in the current quarter.
Article continues below advertisement
WTI rises in 3Q17 so far
The recent rise in oil prices came after a steep plunge in oil prices for the year. Overall, in 2017 year-to-date, WTI prices have fallen 11.4%, while crude oil prices have risen 3.4% so far in 3Q17.
Oil prices started rising on June 21, 2017. Since then, they've risen 11.9%. The rise has to do with OPEC's (Organization of the Petroleum Exporting Countries) effort to reduce the oversupply in the global market. OPEC and non-OPEC members met on July 24, 2017, and agreed to cap Nigeria's oil production. Saudi Arabia planned to reduce its oil exports. Russia asserted that if production cuts are complied with fully by oil-producing nations, then it will remove a significant portion of excess oil supply from the market.
However, oil prices have remained volatile. Libya can increase production up to 1.25 MMbpd (million barrels per day). However, an official statement about capping hasn't been announced. Libya's production stood at 1.03 MMbpd in July 2017. OPEC production hit this year's high in July. Exports from OPEC members have risen. OPEC and the non-OPEC technical committee met on August 7–8, 2017, to increase compliance for production cuts.
So the rise in oil prices in 3Q17 likely supported integrated energy stocks. Also, Shell, BP, and CVX posted strong 2Q17 earnings, which surpassed estimates. That further supported their stock prices.
XOM's 2Q17 earnings missed estimates, which could be the reason its stock has fallen in 3Q17 to date.
Series overview
In this series, we'll do a cross-sectional analysis of integrated energy stocks. In the next few parts, we'll examine their moving average crossovers followed by their 11-day price forecasts based on their implied volatility. We'll also look at analyst ratings, expected dividends for the next quarter, institutional ownership changes, and forward valuations.
Then we'll switch to a financial analysis, beginning with a leverage comparison. We'll also compare the companies' liquidity positions. Then we'll analyze their capex (capital expenditure) activities, segmental earnings, and upstream and downstream operational performances.
Let's start by seeing how these stocks trended in terms of their 50-day and 200-day moving averages.