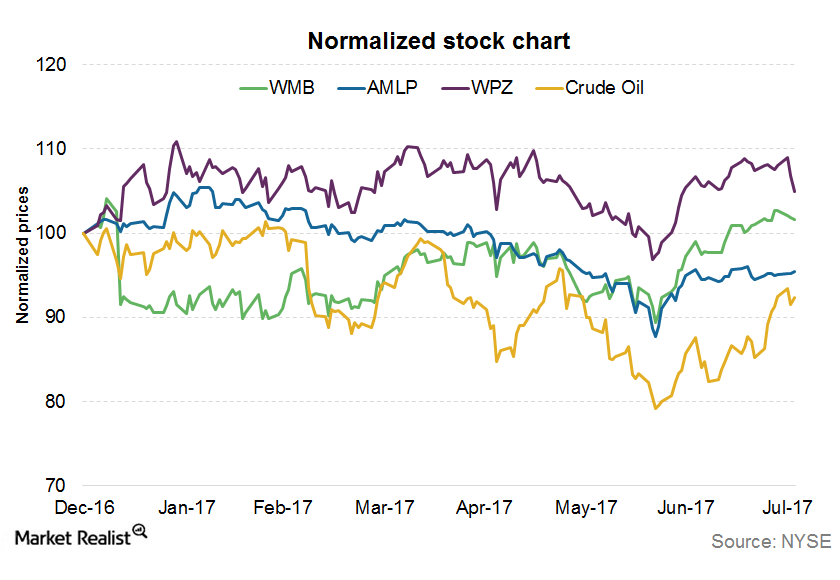 Williams Companies, Williams Partners: Price Forecasts after 2Q17
By Kurt Gallon

Aug. 4 2017, Published 8:57 a.m. ET
Recent market performance
Williams Companies (WMB) and Williams Partners (WPZ) had a weak start to the month of July. They fell 0.40% and 4.3%, respectively, in two trading sessions ahead of their 2Q17 earnings announcement. At the same time, the Alerian MLP ETF (AMLP), which is comprised of 25 energy MLPs, rose 0.20%. WPZ's fall ahead of its 2Q17 earnings could be attributed to investors' expectation of weak EBITDA (earnings before interest, tax, depreciation, and amortization) growth due to headwinds at its West and NGL (natural gas liquids) Petchem and Services segments.
The 2Q17 earnings may not have a further impact on the C corporation's and the limited partnership's stock performances due to a low divergence from the earnings estimates and no change in the 2017 earnings guidance.
Article continues below advertisement
Overall, WMB and WPZ have risen 1.6% and 4.9%, respectively, since the beginning of 2017. The Alerian MLP ETF (AMLP) has fallen 4.5%. WMB and WPZ are outperforming AMLP by 610 bps (basis points) and 1,040 bps, respectively, in 2017. However, WMB is still underperforming the SPDR S&P 500 ETF (SPY) (SPX-INDEX) in 2017.
Moving averages
Williams Companies and Williams Partners were trading above their short-term (50-day) and long-term (200-day) moving averages as of August 2, 2017. WMB was trading 6.3% above its 50-day SMA (simple moving average) and 5.3% above its 200-day SMA as of August 2. At the same time, WPZ was trading 0.60% and 2.2% above its 50-day and 200-day historical averages, respectively. A fall in crude oil and natural gas prices might push WPZ below its 50-day moving average, resulting in a bearish sentiment.
Price forecasts
Williams Companies' and Williams Partners' 30-day implied volatilities were 20.1% and 20.5%, respectively, as of August 2, 2017. Based on their respective implied volatilities, Williams Companies and Williams Partners might trade at $30.76–$32.52 and $38.77–$41.03, respectively, in the next seven days, based on the August 2 closing prices of $31.64 and $39.90, respectively. WMB's and WPZ's stock prices are expected to be within this range 68.0% of the time, assuming a standard deviation of one and a normal distribution of prices.