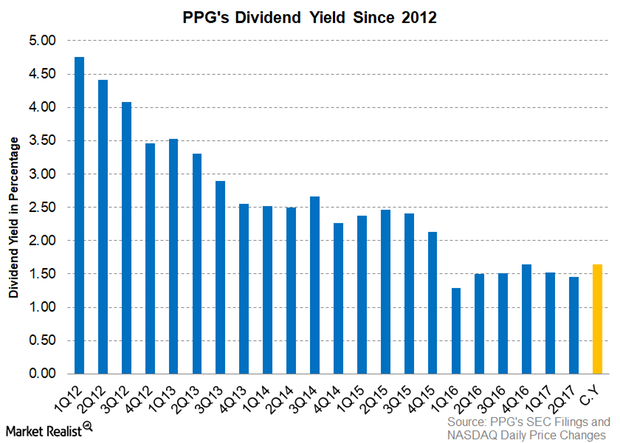 Will Higher Dividends Push PPG Industries' Dividend Yield?
PPG Industries' dividend yield
Long-term investors typically look to invest in stocks that have consistent, higher dividend yields. A dividend yield is a return that investors get for every dollar invested in a company's equity.
With PPG Industries increasing its dividend to $0.45 per share, we can expect it to pay a dividend of $1.70 per share in fiscal 2017. As of August 25, 2017, its current dividend yield is 1.6%. Since 2012, its dividend yield has been falling, as the stock price has more than doubled for the same period. That indicates that PPG's dividend growth has remained lower while the stock has risen at a higher rate, resulting in a fall in dividend yield.
Article continues below advertisement
PPG's peers Sherwin-Williams (SHW) and RPM International (RPM) have dividend yields of 1.0% and 2.5%, respectively. Axalta Coating Systems (AXTA) doesn't pay dividends. PPG's dividend yield is still better than the yield on one-year Treasury notes. If the declining dividend yield trend continues, PPG might have to increase its dividend to keep long-term investors, but free cash flows could be a cause of concern.
Dividend payout
At the end of 2Q17, PPG's dividend payout was 24.8%. In the past five years, its EPS (earnings per share) has remained volatile due to the fluctuation of PPG's dividend for the same period. However, in the past two years, PPG's dividend payout has increased. If the higher payout trend continues, PPG will be left with little for its expansion and other plans.
Investors looking for exposure to PPG Industries can invest in the iShares US Basic Materials (IYM), which has invested 4.1% of its portfolio in PPG Industries as of August 25, 2017.
In the next part, we'll look at analysts' recommendations for PPG Industries.