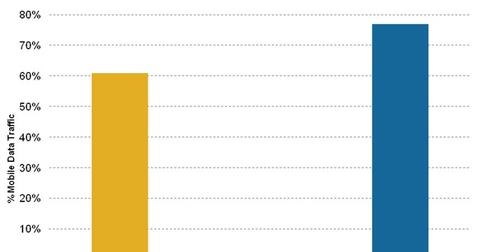 How Disney's ESPN Streaming Service Could Affect Competitors
By Shirley Pelts

Aug. 15 2017, Updated 9:36 a.m. ET
Disney's take on how its direct-to-consumer move could affect the industry
In the previous part of this series, we discussed whether Walt Disney's (DIS) ESPN direct-to-consumer service would affect its affiliate fee agreements with pay-TV operators. We also discussed how Disney's ESPN is an expensive network for pay-TV operators, which has resulted in these operators considering offering skinny bundles without sports to viewers. There have been reports that Charter Communications (CHTR) is considering such a bundle.
Article continues below advertisement
Disney was asked at its fiscal 3Q17 earnings call about how ESPN's direct-to-consumer service would affect its peers in the media industry. A direct-to-consumer service for ESPN would help the company reach more viewers. It could also help Disney counter the emerging trend of sports-free skinny bundles.
Disney said on its fiscal 3Q17 earnings call that ESPN's direct-to-consumer service would help the company to leverage the strength of its brands and monetize its brands effectively. The company also said that this move would give the company flexibility when it comes to its content distribution, both digitally and through linear television network distribution. As a result, the company believes that this move would strengthen Disney's position in the media industry in the face of a changing competitive landscape.
Rising popularity of online viewing
The announcement of Disney's ESPN direct-to-consumer service comes as online content viewing becomes increasingly popular among Millennials. Media companies are trying to cater to this trend. The popularity of viewing content online has also been fueled by the rising ownership of digital devices in the United States. According to ReportLinker data from earlier this year, while 93% of US households continue to own a television, other digital devices are also popular with ownership of smartphones, laptops, and tablets at 79.0%, 78.0%, and 68.0%, respectively.
According to a Cisco Systems' (CSCO) VNI (visual networking index) report, video is likely to account for 77.0% of all mobile data traffic by 2020 in the United States (SPY).