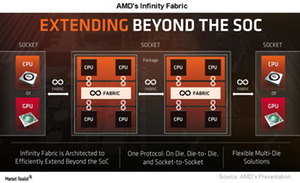 Will AMD Develop a Multi-GPU Design?
By Puja Tayal

Updated
Is AMD eyeing multi-GPU design?
In the previous part of the series, we saw that Advanced Micro Devices' (AMD) add-in-board partner Asus is rumored to be developing a dual-GPU (graphics processing unit) design. Let's see if there's a possibility that AMD might come up with a multi-GPU design itself.
With every shrink in the process node, the technology is becoming more complex, reducing the cost and performance advantage. The transition from 28-nm (nanometer) to 14-nm itself took AMD a lot of time and effort. Shifting to 7-nm will likely be even tougher. Under such a scenario, monolithic GPU design won't be sufficient to meet future GPU performance requirements.
Article continues below advertisement
Infinity Fabric
A multi-chip design offers a solution to future workload requirements. AMD has designed a high-speed interconnect Infinity Fabric, which it is already using in its EPYC server processor and its Ryzen mobile processor to link CPUs (central processing units) and GPUs.
Until now, the company has not revealed any intentions to develop a multi-GPU design but it has the capability to do so with Infinity Fabric. At the 2017 Investor Day, Radeon Technology Group head Raja Koduri mentioned that Infinity Fabric would form the basis of all their future ICs (integrated circuits).
Rivals eye multi-chip module
NVIDIA (NVDA) and Intel (INTC) are already working on multi-chip modules. Intel's embedded multi-die interconnect bridge connects multiple chips from different generations.
AMD has not made any official announcement about a multi-GPU design. But if this rumor does materialize, it could accelerate AMD's technology roadmap.