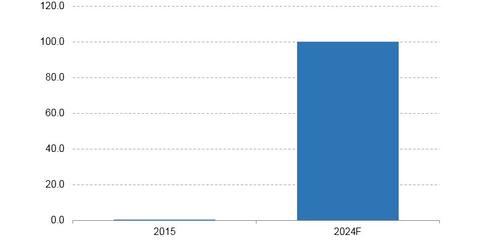 Why This Apple Acquisition Matters
By Ruchi Gupta

Updated
An eye-tracking specialist
Apple (AAPL) recently made a quiet acquisition that speaks volumes. The company has acquired SensoMotoric Instruments, a German (EWG) firm that specializes in eye-tracking technology.
At the Consumer Electronics Show last year, SensoMotoric showed off VR (virtual reality) headsets equipped with eye-tracking capabilities. The company showed off its technology working in modified VR headsets manufactured by HTC and Samsung (SSNLF).
Apple confirmed the purchase of SensoMotoric to Axios, but as usual, Apple didn't disclose its intentions for the asset.
Article continues below advertisement
Apple is excited about AR prospects
Given recent comments and moves by Apple executives, the acquisition of SensoMotoric appears to be part of Apple's push into emerging technology markets like VR (virtual reality) and AR (augmented reality).
Apple CEO (chief executive officer) Tim Cook has been quoted in media reports as saying that AR, which involves overlaying virtual features in the real world, could be as transformative as the smartphone. In a move that seems to suggest that Apple could be plotting an AR venture, the company recently unveiled ARKit, a platform for developers to create apps for Apple's iOS devices like the iPhone and iPad.
According to Grand View Research, the AR market will be worth $100.2 billion by 2024, compared with its tiny base of $0.6 billion in 2015.
Taking AR and VR mainstream
The technology that SensoMotoric possesses could be used by Apple to design more versatile AR or VR devices, especially those that can work with limited resources and more likely to be adopted by regular consumers.
To be sure, existing VR and AR devices, such as those manufactured by Facebook (FB), Microsoft (MSFT), and Sony (SNE) are not only resource-intensive but also expensive to purchase.