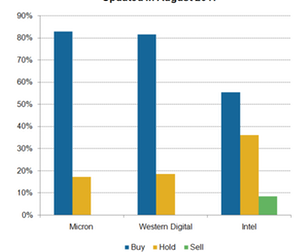 Why Some Micron Analysts Are so Optimistic
By Puja Tayal

Updated
Analysts' recommendations
Micron Technology (MU) is a fundamentally undervalued stock as its stock price growth has been soft above $30. Investors view an earnings boost as a one-time event and fear that production capacity could increase, which would ease a supply shortage and reduce memory prices, thereby taking away the profits and revenue growth that comes from favorable pricing.
However, Wall Street analysts are optimistic about Micron and have given the stock an overall "buy" recommendation. They're also optimistic about Western Digital (WDC) but are divided over Intel (INTC).
Article continues below advertisement
Financial bloggers
Several financial bloggers have stated that Micron is focusing its product mix on fast-growing markets. It appears to be shifting its DRAM (dynamic random access memory) product mix toward the server DRAM and specialty DRAM used in graphics and networking. These are both high-margin markets, wherein demand growth has just begun. Micron is also focusing its NAND (negative AND) product mix toward SSDs (solid-state drives) and the automotive and industrial sectors.
Thus, even if the commoditized memory market faces a slowdown, Micron's transition to specialized memory could very well mitigate the impact of the slowdown.
Morgan Stanley
Morgan Stanley analyst Joseph Moore Despite has set a $36 price target for Micron, as he believes that the stock price could go higher, despite the increase in supply and the cooling of memory prices. Moore stated that even though the memory supply shortage is easing, major computing and clouds customers expect supply conditions to remain tight through 2017.
Notably, Apple's (AAPL) management, in its fiscal 3Q17 earnings, stated that it has reduced its gross margin estimate for next quarter due to the toughening memory pricing environment.
Moore too stated that cloud companies expect the memory supply to remain tight through 2018, and he expects Micron stock to strengthen until the end of 2017—and then to return to average run rates in 2018.
Stifel
Stifel's analyst Kevin Cassidy is bullish on Micron, seeing strong potential for the company in the data center market. Cassidy stated that as the data center world transitions from "CPU (central processing unit)-centric systems to data-centric systems," the demand for more memory content per device increases. Memory demand would thus outpace microprocessor demand.
Cassidy also stated that Micron has a technology and cost advantage in 3D NAND (negative AND), which could help it tap the transition to data-centric systems. Hence, he believes that Micron could grow faster than microprocessor companies like Intel and Advanced Micro Devices (AMD).
In the next and final part of this series, we'll look at the analysts' price target for Micron.