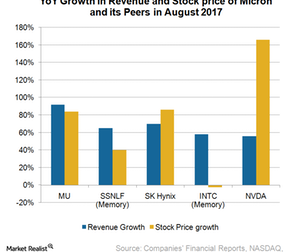 Why Micron's Earnings and Stock Price Growth Momentum Are Not in Sync
By Puja Tayal

Updated
Micron's growth momentum not reflected in stock price 
Micron Technology (MU) is reporting strong earnings and guidance, but its stock is not growing as fast as its earnings. In calendar 2Q17, Micron's revenue rose 92% YoY (year-over-year), but its stock price has risen 84% in the past 12 months.
Memory peers Samsung (SSNLF) and SK Hynix are also witnessing a similar trend. Slow growth in memory stock prices has sprung from fears among investors that the memory market has reached its peak and is set to fall. This presumption about the industry's cyclical behavior is making investors cautious.
However, the memory industry has changed a lot over the years. Memory suppliers have consolidated, and demand has diversified beyond PCs (personal computers) and smartphones to data center and automotive. All statistics are showing a favorable environment for memory suppliers.
Article continues below advertisement
A look at the memory market
Micron stated that the emergence of autonomous driving, IoT (Internet of Things), machine learning, and big data analytics has made memory and flash storage a critical component of the industry. In fact, some analysts stated that nonvolatile memory manufacturers are witnessing strong growth, whereas microprocessor makers such as Intel (INTC) and Advanced Micro Devices (AMD) are losing clout.
According to the WSTS (World Semiconductor Trade Statistics) August 2017 report, global semiconductor sales (SMH) are expected to grow 17% YoY (year-over-year), with memory chip sales growing the fastest at 50.5% YoY.
Memory market uptrend beneficial for Micron  
Micron is among the top suppliers of DRAM (dynamic random access memory) and NAND (negative AND) products, and its specialty DRAM products are being increasingly adopted in servers, tablets, PCs, mobile phones, and computer peripherals. The company is a leader in the automotive memory market.
On the DRAM side, no new supply is coming online in 2018, but demand from Nvidia (NVDA), Apple (AAPL), and Nintendo is growing. DRAMeXchange noted that DRAM ASP (average selling prices) rose 40% sequentially in calendar 2Q17. Amid all of this, a two-week manufacturing halt at Micron's Inotera DRAM plant in July 2017 will likely further tighten supply, driving DRAM prices.
On the NAND side, Micron has the industry's smallest die size.
Investors fear end of peak  
As Micron earns over 60% of its revenue from DRAM, investors fear that other memory makers would boost their DRAM capacities and create a situation of oversupply. If this happens, Micron would face a significant blow. With every new peak, investors fear that this is the end of the peak, but there's no tangible data that would show that a peak is coming.
For this reason, Micron's stock has not grown above $33, which has made it the cheapest memory company stock, with strong growth potential. In this series, we'll look at Micron's current earnings and growth potential in 2017.