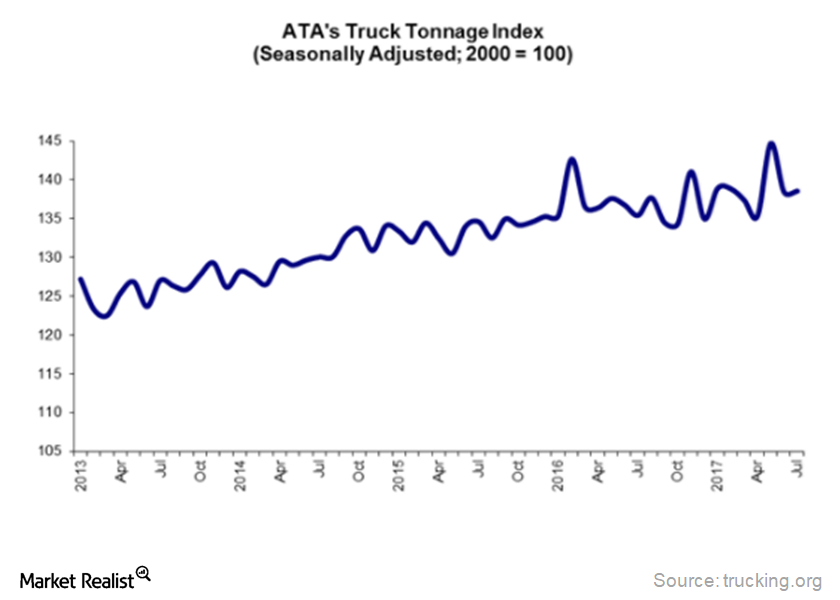 Why Investors Should Watch the Truck Tonnage Index
By Samuel Prince

Aug. 30 2017, Updated 9:06 a.m. ET
Truck Tonnage Index
In the previous article, we reviewed the cash distributions by these truckload carriers in the form of dividends and stock buybacks. In this part, we'll take a look at the Truck Tonnage Index. The American Trucking Associations (or ATA) has calculated this index based on surveys from members since the 1970s. This index is generally considered a good measure of economic activity in the US.
Article continues below advertisement
July 2017 Truck Tonnage Index
ATA's advanced seasonally adjusted (or SA) For-Hire Truck Tonnage Index rose 0.1% in July after falling 4.4% in June 2017. In July, the index was 138.5, up from 138.4 on a sequential basis. If we compare the July 2017 index with July 2016, the SA index jumped 2.3%. In June 2017, it grew 1.2% on a year-over-year basis. Year-to-date, the index is up 1.2% compared with the first seven months in 2016.
The not-seasonally adjusted index indicates the change in tonnage moved by fleets before any seasonal adjustment. This index was 141.0 in July 2017, down 2.2% compared with the June 2017 level of 144.2.
What did the ATA chief economist say?
According to Bob Costello, chief economist of ATA, "July's small increase in truck tonnage fits with other mixed economic indicators. Retail sales surprised to the upside, but manufacturing production and housing starts were down, so combined those likely caused a rather flat month in July for truck tonnage."
Costello added, "With the better economic growth in the second half of 2017, expect truck tonnage to continue increasing at a moderate pace on a year-over-year basis."
Article continues below advertisement
According to ATA, trucking companies represented 70.6% of tonnage hauled by all modes of domestic freight transportation. Trucks moved ~10.5 billion tons of freight in 2016. The association reported that motor carriers collected $676.2 billion, or 79.8% of total revenues earned by all transportation modes in 2016.
ETF investments
Investors optimistic about the transportation sector can consider investing in the SPDR S&P Transportation ETF (XTN). Major road carriers (JBHT) (SWFT) and prominent US airlines (DAL) (ALK) are included in XTN's portfolio holdings.
In the final part of this series, we'll turn to analysts for their opinions on these truckload carriers.