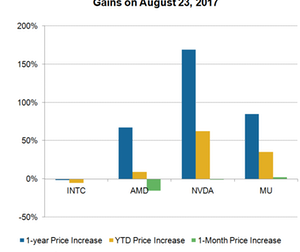 Why Intel Stock Is Underperforming the Market and Peers
By Puja Tayal

Updated
Intel stock underperforms the market
Intel's (INTC) stock price rose 4% between July 27 and August 14, 2017. The stock then entered a downtrend as analysts became skeptical that the company could sustain its strong growth amid increasing competition from Advanced Micro Devices (AMD) and Nvidia (NVDA).
Over the past 52-weeks, Intel's stock price has fallen 1.3%, underperforming the S&P 500 Index (SPY), which rose 12%. Intel's peers outperformed the market by a high margin, with NVDA rising 169%, AMD rising 67%, and Micron Technologies (MU) rising 85% during the same period.
Since the start of 2017, Intel's stock price has fallen 5.2% and has been trading between $33 and $36.
The gap between Intel's and peers' stock prices has meanwhile been widening as NVDA and AMD launch new products. But Intel's stock price could increase going forward if the company launches a revolutionary product by leveraging the technologies it has acquired over the past two years.
Article continues below advertisement
Stock price volatility
Still, given its stock price momentum, it's clear that Intel is a stable stock. It has a beta of 1.17, which is lower than AMD's, NVDA's, and Micron's betas of 3.06, 1.54, and 1.94, respectively. (Beta is a measure of volatility, wherein a number greater than one indicates high volatility, and a number lower than one indicates lower volatility.)
Market capitalization
On August 23, 2017, Intel had a market capitalization of nearly $170.6 billion, which is 2.6x its projected 2017 revenue of $61.3 billion. Intel's market-cap-to-revenue is higher than AMD's and Micron's ratio of 2.3x and 1.68x, respectively.
On the other hand, NVDA's ratio of 11.0x is way higher than those of the above three companies, likely because investors are more optimistic about NVDA, which is now at an artificial intelligence inflection point and is preparing for an autonomous car inflection point.
In the next part, we'll examine which direction Intel's stock price appears to be headed in the short term.