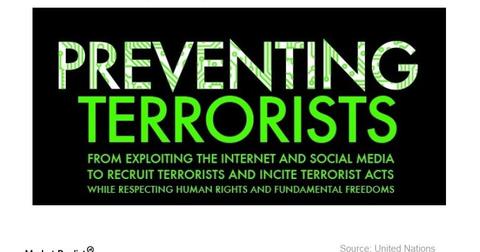 Why Google Wants to Rewrite the Law
By Ruchi Gupta

Sep. 4 2017, Updated 8:06 a.m. ET
Google in the anti-terrorism mission
Alphabet's (GOOGL) Google recently joined fellow Internet companies in launching a global working group whose mission is to combat terrorism. The group, working under the banner of Global Internet Forum to Counter Terrorism, will collaborate in detecting and removing terrorism content from social media platforms. Other members of the group include Facebook (FB), Microsoft (MSFT), and Twitter (TWTR).
The launch of the group was partly a response to growing pressure from government authorities for social media companies to do more to curb the spread of extremist ideology on their sites.
By launching the group, members also hope to save their skin. In Germany (EWG), for instance, a new law seeks to impose a heavy penalty on social media companies if they fail to take down offensive content within 24 hours.
Article continues below advertisement
Collaboration with governments
By coming together, these Internet companies could speed up the removal of content that could cause them trouble with authorities.
The global group calls for collaboration not only among Internet companies but also among governments and other organizations to sanitize the Internet.
Need for regulation overhaul
However, the existing data access regulations could complicate the group's work, especially in cooperation with governmental investigative agencies. As such, in June 2017, Google proposed an overhaul of the law that governs access to the data stored by overseas servers. It wants US Congress to change the law so that foreign governments can directly request the data they need from the companies that hold it.
Changing the law in this way could remove friction for Google and its group in the effort to sanitize the Internet.