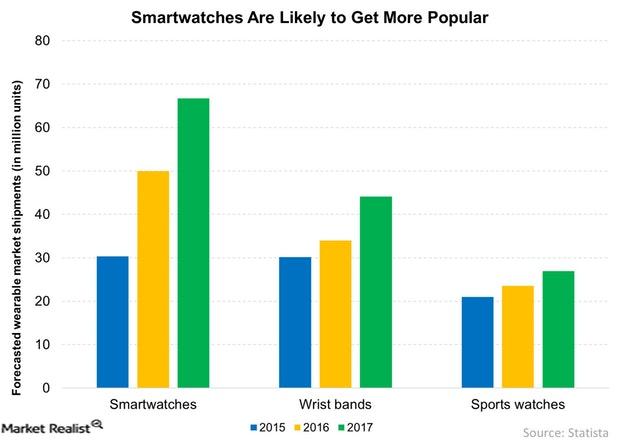 Why Fitbit's Foray into Smartwatches Could Be Critical
By Sanmit Amin

Aug. 31 2017, Updated 7:39 a.m. ET
Fitbit has been losing market share
The last few quarters have been rough ones for Fitbit (FIT). A woeful 2016 holiday season led to its first quarterly loss after going public. The company's dwindling fitness band sales knocked it out of its number one spot in the wearables (WEAR) market in terms of unit sales to Xiaomi in 2017. Also, the Apple (AAPL) Watch is gaining ground. Fitbit stock has fallen more than 85% over the last year.
Article continues below advertisement
In a bid to revive market share, Fitbit unveiled its smartwatch, Ionic, on August 28, which could hit the stores in October. The smartwatch is priced at $299.95, while Apple's smartwatches start at $265.00. As the chart below shows, smartwatches are gaining popularity while wrist bands are becoming less popular.
Ionic is critical for Fitbit
Fitbit (FIT) has integrated its health and fitness features into the Ionic. The device is expected to lack features like cellular connectivity and the ability to be independent of the handset. However, Apple's new smartwatch is widely expected to have these features. Fitbit is banking on success for Ionic to reverse its recent trend.
In December 2016, Fitbit hired some employees from smartphone maker Pebble after it closed its doors. These employees have been deployed to expedite the production of Fitbit's smartwatch.
According to the Wall Street Journal, the smartwatch can be worn while swimming, and it can download music for users who have a Pandora (P) account. It can also be used to track distance and location using GPS.