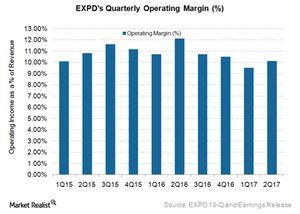 Why EXPD's Operating Margins Declined in 2Q17
By Samuel Prince

Aug. 16 2017, Updated 10:36 a.m. ET
EXPD's operating margins
In this article, we'll review Expeditors International of Washington's (EXPD) 2Q17 operating margins. Against revenues of ~$1.7 billion, the company earned $168.2 million in operating income. In 2Q16, EXPD's revenues totaled ~$1.5 billion while its operating income reached $178.8 million.
This trend translates into an operating margin of 10.1% in 2Q17 against 12.1% in 2Q16. While EXPD's revenues grew 13.4% in 2Q17, its operating expenses rose 16% and contributed to the fall in its 2Q17 operating margins.
Article continues below advertisement
Segmental operating expenses in 2Q17
The operating expenses of Expeditors International of Washington's (EXPD) Airfreight vertical jumped 23.8% to $499.0 million in 2Q17 from $403.0 million in 2Q16. This was primarily due to higher tonnage and increased buy rates resulting from tighter capacity due to demand surge.
EXPD's Ocean Freight and Ocean Services' operating expenses rose 19% in 2Q17. This trend resulted from increased volumes and higher average buy rates. 
Customs Brokerage and Other Services' operating expenses jumped 15% in the three months ended June 30, 2017. Much of the rise was driven by higher volumes.
Salaries and related costs rose 8.5% to $319.0 million from $294.0 million in 2Q16. Higher headcount in North America, Europe, and South Asia led this rise. In addition, increased base salaries and benefits along with higher share-based compensation expenses fueled the rise in employee costs.
EXPD's other overhead expenses declined 5% in 2Q17 on a year-over-year basis. The company's rent and occupancy expenses rose 7.7% to $29.0 million from $27.0 million in 2Q16.
Peer group's operating margin in 2Q17
EXPD's primary peer C.H. Robinson Worldwide (CHRW) also witnessed a 1.7% contraction in its operating margin in 2Q17. However, XPO Logistics' (XPO) 2Q17 operating margins expanded 2.1% year-over-year. J.B. Hunt Transport Services' (JBHT) operating margins contracted 1.5% in 2Q17.
The iShares US Industrials ETF (IYJ) has 12% exposure to US airlines and railroads. EXPD comprises 0.32% of the portfolio holdings of IYJ.
In the final part of this series, we'll turn to analysts for their opinions on EXPD after its 2Q17 earnings release.