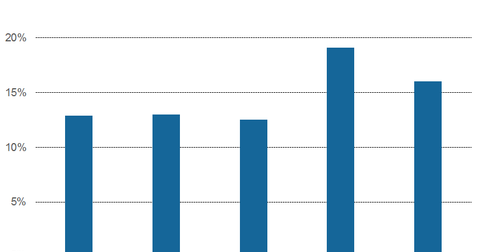 Why Ericsson's Research and Development Is Important
By Adam Rogers

Aug. 25 2017, Updated 6:37 a.m. ET
R&D expenditure rose 15% YoY in 2Q17
Ericsson's (ERIC) R&D (research and development) expenses rose 15.0% YoY (year-over-year) in 2Q17 to 8.0 billion SEK (Swedish kronor) from 7.0 billion SEK in 2Q16. Ericsson has stated that its strategy is focused on a product- and technology-led approach, which means it needs to increase competitiveness in networks. That can be achieved by increasing R&D investments, which might also positively impact gross margins.
CEO (chief executive officer) Börje Ekholm stated, "There is a lag between growing R&D expense and the effecting gross margin, but we expect to see that over time." R&D expenses accounted for 16.0% of Ericsson's total revenue in 2Q17 compared to 12.9% in 2Q16.
Article continues below advertisement
Investments in radio
During Ericsson's 2Q17 earnings call, management stated that it has started to increase investments in R&D in radio in order to provide a competitive product offering in LTE (long-term evolution). R&D is also important in order for Ericsson to ensure leadership in the 5G (fifth-generation) space.
R&D is critical for technology companies to ensure continuous product development that will cater to the needs of their clients. R&D expenditure accounted for 21.6% of Nokia's (NOK) revenue and 12.4% of Cisco's (CSCO) revenue in fiscal 2Q17.