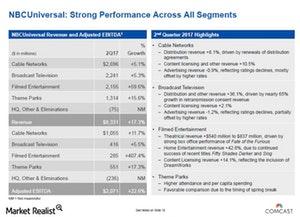 Why Comcast Is Upbeat about Its Advertising Business
By Shirley Pelts

Updated
Comcast's advertising business
Comcast (CMCSA) did very well at advertising upfronts this year with its NBCUniversal business raking in $6.5 billion in advertising commitments for the upcoming television season. That's 8.0% higher than last year's figure.
The company pointed out the reasons behind a successful ad upfront on its fiscal 2Q17 earnings call. It said that its high program ratings were a major reason for its success at the advertising upfronts. According to Comcast, excluding the Super Bowl broadcast on the Fox (FOXA) television network, it was still 20.0% ahead of its competitors in terms of program ratings. Comcast's cost to advertisers for reaching 1,000 viewers was in the high single digits.
The company also said that with a successful ad upfront, it's bridging the monetization gap between its programming and advertising.
Article continues below advertisement
Comcast's cable networks and the rating game
Comcast's advertising revenues in fiscal 2Q17 fell 1.2% year-over-year due to a fall in program ratings and higher programming and marketing expenses. In the week from August 14 to August 20, 2017, Twenty-First Century Fox's (FOXA) Fox News continued to top cable ratings, according to a Multichannel News report from August 22, 2017, citing Nielsen data. According to the report, Comcast's cable channel MSNBC was second in the cable rating game with 1.9 million viewers.
While Comcast's broadcast networks continue to be ahead in ratings, the company indicated on its fiscal 2Q17 earnings call that with the rise in viewing content online, it expects that the decline in program ratings for its linear television networks will continue.
As a result, the company is looking at monetizing its advertising in a better way through enhanced targeted advertising capabilities and investing in or partnering with digital platforms such as BuzzFeed, Box, and Snap.