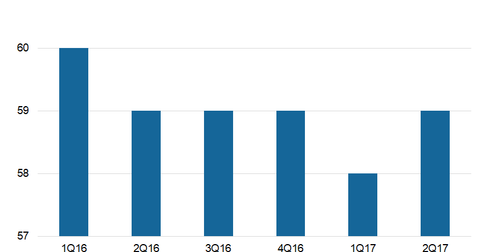 Why Citigroup's Cost of Credit Has Risen
By Robert Karr

Updated
Rising cost of credit
Commercial bankers (IYF) have successfully augmented their operating margins and have seen improved operating efficiencies in recent quarters, mainly due to higher net interest margins and lower administrative spending. Citigroup's efficiency has remained stable over the past year, given its heavy focus on expanding its core business.
The banking giant has seen higher credit costs, largely due to credit losses and higher operating expenses. By contrast, major peers JPMorgan Chase (JPM), Bank of America (BAC), Goldman Sachs (GS) have been successful in improving their efficiency ratios.
On an absolute basis, however, Citigroup commands one of the lowest efficiency ratios, reflecting controlled spending. The efficiency ratio measures noninterest spending as a portion of net revenues. The lower the ratio, the better it is from the company's perspective.
Article continues below advertisement
Citigroup's efficiency ratio was flat at 59% in 2Q17, compared with 58% in 1Q17, reflecting higher spending and costs. The company's operating expenses grew 1% to ~$10.5 billion. On a constant-dollar basis, expenses rose 2%, mainly due to performance-related compensation, ongoing investments, and higher business volumes, partially offset by efficiencies and the winding down of legacy assets.
The rising cost of credit
Citigroup saw its credit costs rise to ~$1.7 billion in 2Q17, representing a growth of 22% on a YoY (year-over-year) basis, mainly due to an increase in its net credit losses by $94 million to $1.71 billion and a lower credit reserve release of $16 million, compared with $256 million in 2Q16.
Remember, the nature of credit costs is that the number can stabilize in coming quarters as a bank winds down its legacy assets. Citigroup's focus on commercial and investment banking could help it improve its efficiency.