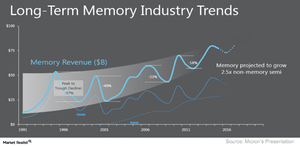 Who the Current Memory Cycle Favors among Memory Makers
By Puja Tayal

Updated
Past memory cycle
Memory is a commodity, and its prices are largely governed by the demand and supply factors. This highly cyclical market exposes pure-play memory makers such as Micron Technology (MU) to high volatility.
The last time memory market reached its peak was in late calendar 2013, after which it started to fall. Despite this fall, Micron's stock prices rose for another four quarters and then started to decline in early 2015.
Article continues below advertisement
Assuming that the current memory uptrend is similar to the 2013 uptrend—and that the market reached its peak in calendar 2Q17—Micron's stock could still have four more quarters to grow before taking the downward path. That said, all memory manufacturers still expect their revenues to grow in 3Q17, showing that the cycle has not yet peaked. This leaves a lot of room for memory stocks to grow.
Current memory cycle
However, the current memory cycle is different from past cycles. This cycle appears more favorable and more profitable for memory suppliers. The current memory market is consolidated among only three players—Micron, Samsung (SSNLF), and SK Hynix—commanding a major portion of the market. This helps them control supply more efficiently than before.
On the demand front, the memory chip outreach has grown beyond PC (personal computer) and mobile and into IoT (Internet of Things), automotive, and servers. The future trends of AI (artificial intelligence), autonomous car, virtual reality, and data analytics have also increased the demand for specialty memory chips that are priced higher.
Article continues below advertisement
Current memory cycle has lower risks than previous cycles
Not only is the current memory market more profitable for memory suppliers, but also it has lower risks. As the memory market is controlled by the three memory giants, they can maintain a tight control on supply.
All three DRAM (dynamic random access memory) players are enjoying strong profits and are in no rush to expand capacity. A majority of capacity growth would come from the transition to advanced technology rather than capacity expansion because the cost of building a new fabrication facility has increased significantly.
Unless DRAM demand exhausts the capacity created from the technology transition, memory makers will likely avoid investing in new capacity.
China
Meanwhile, China (MCHI) is investing $160 million to manufacture memory in the domestic market. This has raised fears that China could flood the market with cheaper memory chips, affecting the memory industry's profits. However, China lacks the necessary IP (intellectual property) to manufacture competitive memory chips cost-efficiently.
The current memory cycle is less risky and more profitable, which has increased Micron's profits and cash flows. This means that Micron's stock price could cross its 2014 peaks of slightly above $36 and reach $40 or above, according to the latest analysts' estimates.