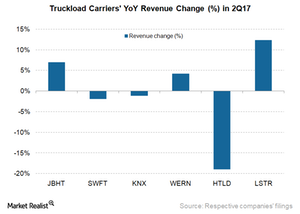 Which Truckload Carriers Left Their Peers behind in 2Q17 Revenue Growth?
By Samuel Prince

Aug. 25 2017, Updated 9:08 a.m. ET
Revenue growth in 2Q17
Previously in this series, we presented a snapshot of the stock market returns generated by these six major truckload carriers (IYT). In this part, let's take a look at their 2Q17 revenues and growth. The six companies under consideration for this series follow a uniform financial year, which makes a good basis of comparison for top-line growth.
Article continues below advertisement
LSTR tops in revenue growth
Landstar Systems' (LSTR) 2Q17 revenues rose 12.3% on a year-over-year basis. The company reported 2Q17 revenues of $870.4 million compared with $775.2 million in 2Q16.
This increase in revenues was due to 9% growth in the number of loads hauled plus a 3% increase in revenue per load. The revenue rise is attributed to a broad-based increase in demand across many customers and industries for LSTR's various truck service offerings.
J.B. Hunt Transport Services (JBHT) registered a 6.9% rise in its 2Q17 revenues. The company's revenues during the quarter reached $1.7 billion, up $111.8 million from $1.6 billion in 2Q16. Excluding fuel surcharge revenues, its revenue growth was 4.6%.
A load growth of 5% in the Intermodal segment, a 5% rise in Dedicated Contract Services division, and 20% higher volumes in the Integrated Capacity Solutions vertical led the revenue rise in 2Q17.
Werner Enterprises' (WERN) 2Q17 revenues grew 4.2% to $519.5 million from $498.6 million in last year's second quarter. The company operates in two major segments—Truckload and Logistics. The Truckload division's revenues rose 6.4%, but the Logistics segment's revenues declined 3%. These revenues rose due to better freight demand in WERN's One-Way Truckload fleet, indicating a seasonal trend in 2Q17.
Why did Heartland's revenues fall?
In 2Q17, Heartland Express's (HTLD) revenues fell 19%, the highest among the discussed peers. HTLD's revenues tumbled from $160.8 million in 2Q16 to $129.6 million in 2Q17. The revenue decline was due to a $30.6 million fall in trucking and other revenues and a $0.6 million decline in fuel surcharge revenues in the reported quarter.
The company's 2Q17 revenues were also affected by HTLD's exit from the non-asset-based brokerage business in 1Q17. Plus, the decline in loaded miles resulting from a decrease in drivers also took a toll on its 2Q17 revenues.
Swift Transportation (SWFT) and Knight Transportation (KNX), which announced a merger earlier this year, reported revenue losses of 1.9% and 1.1%, respectively, in 2Q17.
Keep reading for an update on the 2Q17 operating margins of these trucking companies.