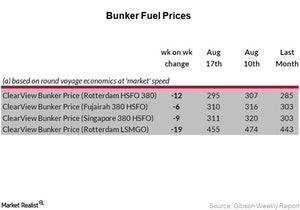 Where Crude Oil Prices and Bunker Fuel Prices Headed in Week 33
By Sue Goodridge

Updated
Article focus
In the previous part of this series, we saw that despite muted Suezmax demand, Suezmax rates rose in Week 33 (ended August 18, 2017). VLCC (very large crude carrier) and Aframax rates also rose. In this part, we'll look at how crude oil prices and bunker fuel prices fared.
Article continues below advertisement
Crude oil prices
While crude oil prices (DBO) fell significantly last week, they rose a few points on Friday. Weak Chinese demand pulled down oil prices, whereas the EIA's (U.S. Energy Information Administration) bullish report, the US dollar weakening, and a lower rig count supported oil prices.
Bunker fuel prices
On August 17, 2017, the average bunker fuel price was $342 per ton, compared with $354 on August 10, 2017. According to the Gibson report for the week, bunker fuel prices at Rotterdam were $295 per ton on August 17, 2017, down from $307 per ton the week before. Bunker fuel prices at the Port of Fujairah dropped to $310 per ton on August 17 from $316 per ton on August 10, according to the same report.
Companies that are affected
Product tankers, crude tankers, LNG (liquefied natural gas) carriers, and dry bulk carriers are all run by shipping companies. For these companies, bunker fuel is one of the most significant costs, and bunker fuel prices are closely related to oil prices. Any rise in oil prices translates to a rise in bunker fuel prices.
Major crude oil tanker companies include Nordic American Tankers (NAT), Euronav (EURN), Teekay Tankers (TNK), and Gener8 Maritime Partners (GNRT). Navios Maritime Partners (NMM) is a major dry bulk shipper, while Golar LNG (GLNG) and Teekay LNG Partners (TGP) are LNG carrier companies.