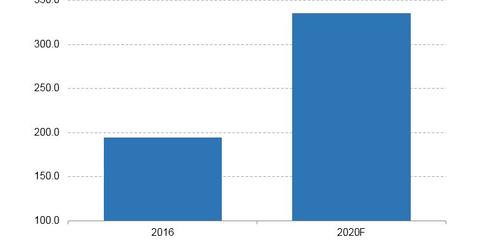 What's the Outlook for Facebook's Main Industry?
By Neha Gupta

Updated
Payments sales down 20%
Internet advertising is not only Facebook's (FB) largest business but also its fastest-growing operation. Plus, it's the only business that saw growth during the quarter. In 2Q17, advertising sales rose 47% year-over-year when payments and other fees sales fell 20%. What's the future of the Internet advertising industry? According to eMarketer, digital advertising spending will represent 46% of global media advertising spending by 2020, up from an estimated 35.3% in 2016.
Article continues below advertisement
A $335 billion addressable market
In dollar terms, the global online advertising market is forecast to grow to $335 billion by 2020, up from $194.6 billion in 2016. The trend of brands increasingly shifting their budgets to the Internet in efforts to connect with Millennials is expected to contribute to the rapid growth of the digital advertising industry in the coming years.
Facebook and Google, an Alphabet (GOOGL) company, are the giants of digital advertising. According to Pivotal Research, Facebook and Google alone claimed 99% of online advertising industry growth in 2016.
Competition threatening to spoil Facebook's party
According to the projections of eMarketer and other researchers, the future of Facebook in the advertising industry is bright if it can maintain its market leadership.
However, online advertising market share will likely be competitive in the coming years given the rise of many challengers. Snap (SNAP), Yelp (YELP), Verizon (VZ), and Amazon (AMZN) are vying to grow their share of the digital advertising market, and they are all looking to steal market share from incumbents Facebook and Google.