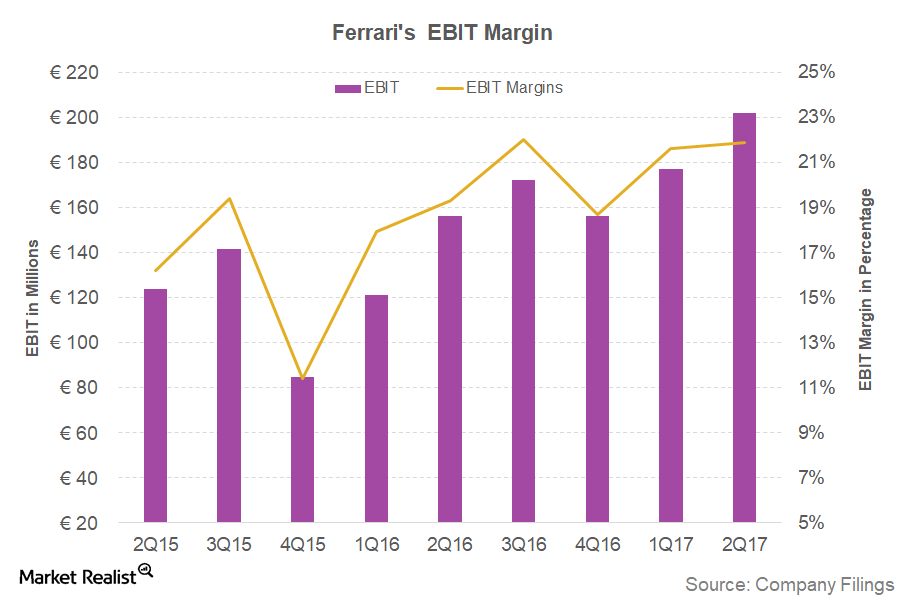 What's behind Ferrari's Solid 2Q17 Profit Margins?
Ferrari's 2Q17 margins
In 2Q17, Ferrari (RACE) reported solid adjusted EBITDA (earnings before interest, taxes, depreciation, and amortization) of 270 million euros, or about $321 million. The company's EBITDA margin for 2Q this year was 29.3%, which reflected an expansion from 26.8% in 2Q16.
Likewise, Ferrari's 2Q17 adjusted EBIT margin also jumped to 21.9% from just 19.3% a year ago.
Article continues below advertisement
V12 contribution rose
Ferrari's margins from V12 engine cars typically tend to be higher than its V8 engine cars. In 2016, the shipments of two newly launched V12 engine cars, the GTC4Lusso and LaFerrari Aperta, began. Both of these models continued to deliver strong growth in Ferrari's major markets, which helped it to boost 2Q17 profitability. Moreover, strong demand for other V12 engine cars such as F12tdf and F12berlinetta also added optimism to Ferrari's profit margins.
Other key drivers
Ferrari's second quarter global shipments rose significantly on a YoY (year-over-year) basis, which boosted its EBIT by 16 million euros, or ~$19 million in 2Q17. Due to a weaker euro, the company's EBIT from international sales rose by 6 million euros, or ~$7 million.
While a weaker euro helped European automakers including Ferrari, Fiat Chrysler, and Volkswagen (VLKAY), it has pressurized US auto giants such as Ford and GM lately.
Visit our Autos page to review auto companies' 2Q17 earnings reports.