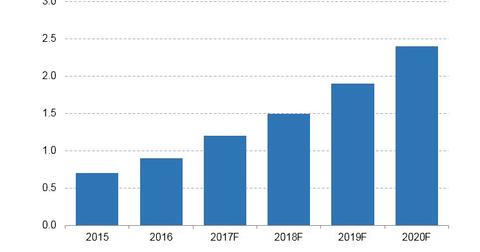 What's behind Facebook's India Push?
By Neha Gupta

Updated
Jostling for a slice of India's tech market
A lot of multinational technology companies like Facebook (FB), Apple (AAPL), Microsoft (MSFT), Twitter (TWTR), and Alphabet's (GOOGL) Google, are actively vying for a slice of India's technology market.
India's huge population of about 1.3 billion people has attracted Facebook. The fact that Internet and smartphone penetration in India are still low implies tremendous growth opportunity for online advertising companies such as Facebook, Twitter, and Google.
Article continues below advertisement
India subscribers surpass US subscribers
Facebook's push into India is gaining momentum rapidly. The company now has more active monthly users in India than it does in the US. According to technology news website The Next Web, Facebook has recently been telling advertisers that they have a potential to reach 241 million users in India compared to 240 million users in the US.
These numbers imply that in just six months, Facebook's user base in India has risen 27%, which is more than double the 12% increase in the US in the same period.
Facebook's capacity building in India
Facebook has launched several initiatives in India to help it accelerate its penetration of the market. For example, the company has cooperated with local partners to offer Indians access to certain websites without using up their Internet data.
The company's other initiative in India is "Boost Your Business," which is a program designed to impart entrepreneurs with skills to help them become more successful in the digital era. Facebook hopes these entrepreneurs will use its platform to promote their businesses in the future.
As the chart above shows, India's digital advertising market is forecast to grow to $2.4 billion by 2020 from less than $730 million in 2015, according to eMarketer.