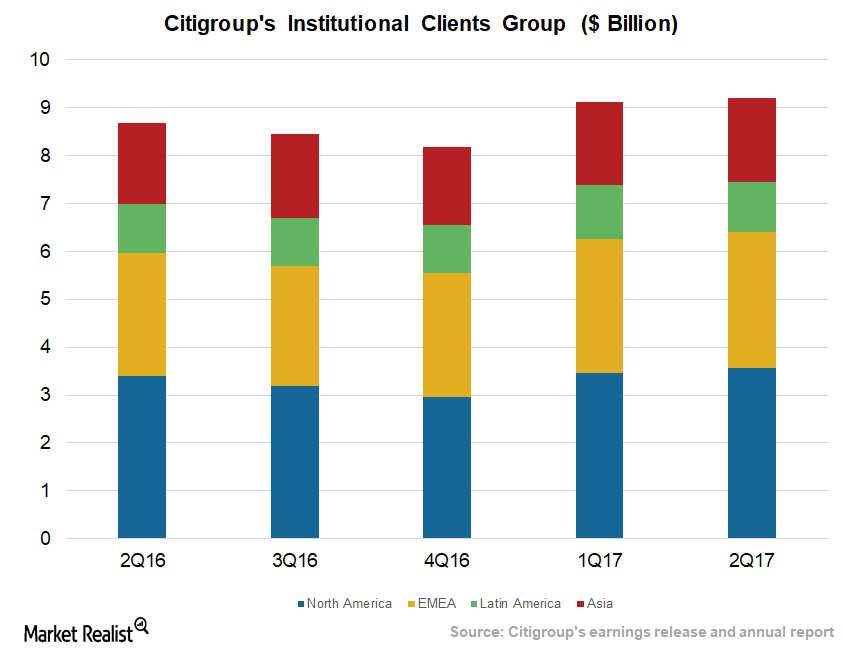 What's Been Offsetting Citigroup's Trading Decline?
Institutional clients group
Commercial banks (XLF), including Goldman Sachs (GS), JPMorgan Chase (JPM), and Bank of America (BAC), have witnessed declining revenues from trading in recent months, though these have been partially offset by investment banking activities.
In particular, Citigroup (C) has managed an improved performance through investment banking, private banking, and securities services revenues, partially offset by lower equity and debt trading activity in 2Q17.
The trend is expected to continue for at least the upcoming quarter as broad market (SPY) (SPX-INDEX) valuations have peaked.
Citigroup's institutional group managed a 4% rise in its revenue to $9.2 billion in 2Q17, compared with nearly $8.9 billion in 2Q16, aided by a 13% growth in banking but partially offset by a 5% decline in market and securities revenues.
Article continues below advertisement
Citigroup's institutional client's group managed ~$4.8 billion in revenue from banking, aided by higher growth in investment banking, private banks, and corporate lending. The company's investment banking revenue continues to see higher growth as liquidity and fund raising drive transactions globally.
However, markets and securities saw a 5% decline on a YoY (year-over-year) basis and 8% sequentially to ~$4.4 billion, mainly due to 11% lower revenues from equity trading and 6% from debt trading, partially offset by higher securities services revenues.
EMEA and North America
Citigroup's global presence provides a natural hedge for managing stable growth. The bank's revenue expanded due to a 10% YoY rise in its European revenue, followed by 5% and 4% rises in its North American and Asian revenues, respectively.
The growth in these regions came mainly due to improved liquidity and improving fundamentals. Citigroup's Latin Americas revenues rose 2% in 2Q17 on subdued banking activities and lower credit offtake.