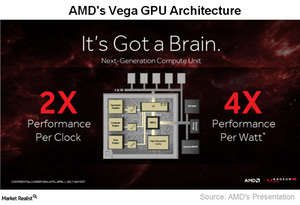 What's AMD's Strategy for Vega GPUs?
By Puja Tayal

Updated
AMD's entry in the high-end PC gaming market 
Advanced Micro Devices (AMD) entered the high-end GPU (graphics processing unit) market with the launch of its Vega series, which targets PC (personal computer) gamers who play games at 60 FPS (frames per second). The company's survey found that there are around 4 million gamers who want to play games at 60 FPS but cannot afford NVIDIA's (NVDA) expensive GPUs. The survey also found that over one million GPUs priced above $350 are sold every quarter.
Thus, AMD decided to tap this market with its Vega GPUs that have the 60 FPS capability and are priced between $400 and $700. Vega improves the minimum FPS and performance of a game using faster-clocked processors and radically overhauled memory subsystems.
Article continues below advertisement
AMD's Vega series
AMD's Vega series consists of four GPUs:
AMD Radeon RX Vega 64 Black: Reference Air Cooled Model priced at $499
AMD Radeon RX Vega 64 Silver: Limited Edition Air Cooled Model priced at $599
AMD Radeon RX Vega 64 Liquid: Liquid Cooled Model priced at $699
AMD Radeon RX Vega 56: Air Cooled Reference Model priced at $399
Vega's launch schedule
While AMD launched the first three GPUs on August 14, 2017, it is due to launch the fourth GPU on August 28, 2017, with custom models available by late 3Q or early 4Q17. AMD plans to add Radeon RX Vega Nano to the Vega series later in 2017.
According to media reports, AMD plans to sell the air-cooled model of Vega 64 for a limited period through 4Q17 until design partners finalize and distribute their cooling platforms. After that, the company plans to push its premium liquid-cooled model.
The August 2017 launch of Vega marks a slight delay in AMD's GPU launch schedule. It launched previous flagship GPUs Radeon R9 Fury X and Radeon RX Polaris in June 2015 and June 2016, respectively. AMD's Vega 64 will compete with NVIDIA's GeForce GTX 1080 and Vega 56 with GTX 1070.
Next, we'll look at the features of Vega GPU and reviews from third party reviewers.