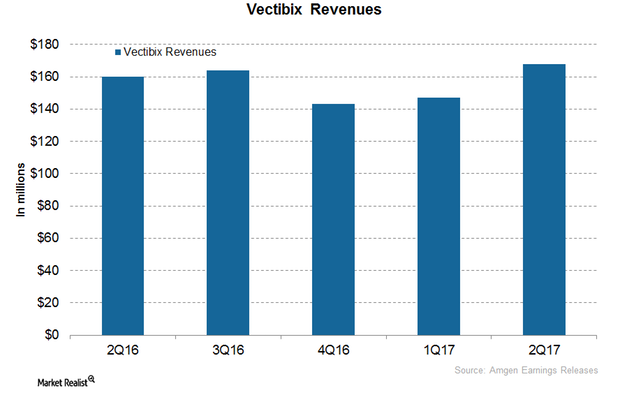 What We May See from Amgen's Vectibix in 2017
Vectibix's revenue trends
In 2Q17, Amgen's (AMGN) Vectibix generated revenues of ~$168 million, which represented a ~5% YoY (year-over-year) rise and a ~14% QoQ (quarter-over-quarter) rise. In the US, Vectibix generated revenues of ~$62 million in 2Q17, or ~19% higher YoY.
Outside the US, Vectibix reported revenues of ~$106 million, or 2% lower YoY and 23% higher QoQ. Shipments of Vectibix to Amgen's partner in Japan, Takeda Pharmaceuticals, helped boost QoQ revenue growth in 2Q17.
Article continues below advertisement
Recent regulatory approval
In June 2017, the FDA (US Food and Drug Administration) approved the sBLA (supplemental Biologics License Application) for Vectibix for individuals with wild-type RAS mCRC (metastatic colorectal cancer) as a first-line therapy in combination with Folfox. The FDA also approved Vectibix as a monotherapy when disease progression continues after previous treatment with oxaliplatin, fluoropyrimidine, and irinotecan-containing chemotherapy. This regulatory approval is expected to boost the drug's revenue growth further.
Notably, Amgen's Vectibix gives tough competition to Eli Lilly's (LLY) Erbitux, Roche's (RHHBY) Avastin, and Bayer's (BAYZF) Stivarga. Any growth in sales of Amgen's Vectibix could boost the share prices of the Vanguard Health Care ETF (VHT). Amgen makes up ~3.6% of VHT's total portfolio holdings.