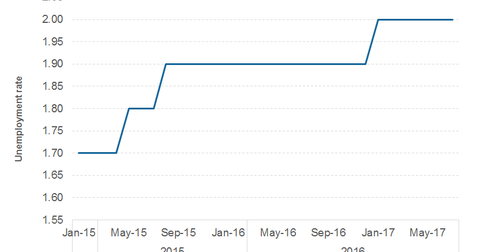 What Unemployment Numbers Tell about Macao Casinos
By Ally Schmidt

Updated
Unemployment rate
The unemployment rate indicates the percentage of the labor force that is currently unemployed but still actively seeking employment. In 2000, the unemployment rate in Macao peaked at 7.0%. Since then, the tremendous growth in the gaming industry has helped reduce unemployment in Macao. The average was 3.8% from 1996 to May 2017.
From May 2017 through July 2017, unemployment in Macao was 2.0%. The unemployment rate has remained constant at 2.0% since January 2017. Prior to that, unemployment was constant at 1.9% for 17 consecutive months (August 2015 through December 2016) and 1.8% from May 2015 through July 2015. At the time of the gaming industry crackdown, the unemployment rate in Macao was 1.7%, the lowest since 1996.
For the same period (May 2017 through July 2017), the labor force participation rate stood at 71.4%, a fall of 1.1% YoY (year-over-year). Labor force participation has been declining since 2014. The underemployment rate was 0.40%, a fall of 0.10% YoY.
The underemployment rate includes highly skilled workers in low-paying jobs and part-time workers who prefer to work full-time. The labor force participation rate is the percentage of the economically active population above the age of 15.
Article continues below advertisement
Employment for important industries
Employment in the gaming industry fell 0.90% from 80,800 to 80,100. Employment in the wholesale and retail trade industry rose 0.20% to 47,000 people. Employment for the hotel sector rose 0.90% to 31,900. Employment for the construction industry fell 2.2% from 34,900 to 34,200. Restaurant industry employment rose 3.1% from 23,700 to 24,500.
Takeaways
Higher unemployment can be negative for casinos, including Galaxy Entertainment, Wynn Resorts (WYNN), MGM Resorts (MGM), Las Vegas Sands (LVS), and Melco Crown Entertainment (MPEL). It would translate to lower revenues generated through locals, as disposable incomes would decline.
Investors can gain exposure to casino stocks by investing in the iShares US Consumer Services ETF (IYC), which invests 1.6% of its portfolio in casinos.