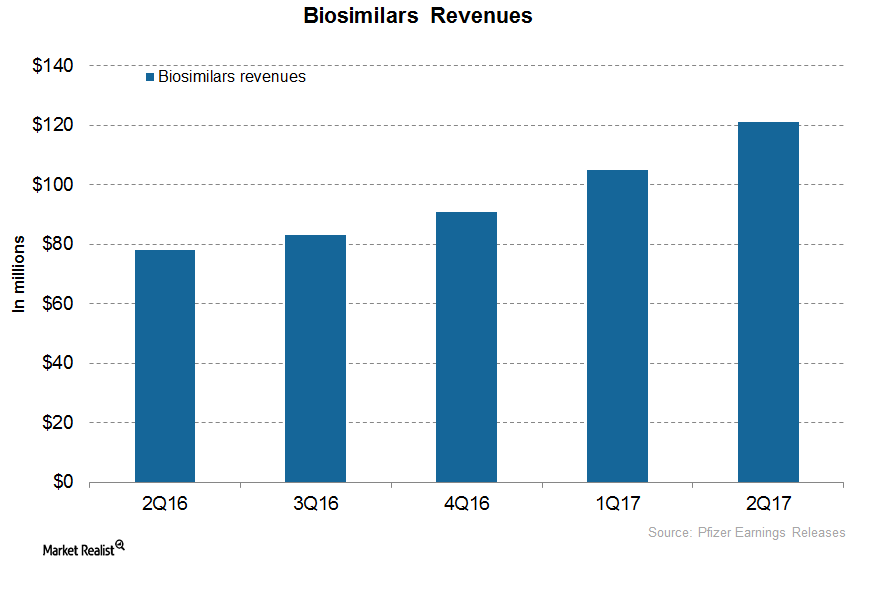 What to Expect from Pfizer's Biosimilars Business
Revenue trends for biosimilars 
In 2Q17, Pfizer's (PFE) Biosimilars segment reported revenues of ~$121 million, which reflected ~55% growth on a year-over-year (or YoY) basis and 15% growth on a quarter-over-quarter basis. In 1H17, Pfizer's Biosimilars business reported revenues of ~$226 million compared to $145 million in 1H16.
The revenue growth for Pfizer's Biosimilars segment was primarily driven by the increase in sales of Inflectra in the US and Europe.
The chart above represents the revenue curve of Pfizer from 2Q16 to 2Q17. To learn more about Pfizer's Biosimilars business, please read Pfizer Sees a Significant Opportunity in This for Revenue Growth.
In 2Q17, Pfizer's Inflectra/Remsima reported revenues of ~$94 million compared to $45 million in 2Q16. In 1H17, Inflectra/Remsima generated revenues of ~$172 million compared to $81 million in 1H16. Inflectra is a biosimilar to Johnson & Johnson's (JNJ) Remicade (infliximab).
Pfizer markets Nivestim, a biosimilar of filgrastim in certain European, Asian, and Middle East/African countries. Pfizer also commercializes Retacrit (epoetin zeta) in some European, African, and Middle Eastern markets.
In 2Q17, Pfizer's biosimilars other than inflectra contributed ~$27 million to the company's revenues compared to $33 million in 2Q16.
Article continues below advertisement
Late-stage studies on biosimilars
Pfizer is conducting various clinical trials for developing biosimilars of blockbuster biologics. Late-stage development is underway with PF-05280014, PF-05280586, PF-06439535, and PF-06410293, which are, respectively, potential biosimilars to Roche's (RHHBY) Herceptin (trastuzumab), Rituxan (rituximab), Avastin (bevacizumab), and AbbVie's (ABBV) Humira (adalimumab).
In July 2017, Pfizer filed an application with the European Commission for approval of PF-05280014, a potential biosimilar to Herceptin.
The growth in Pfizer's Biosimilars segment and simultaneous growth in its revenues could boost the First Trust NASDAQ Pharmaceuticals ETF (FTXH). Pfizer comprises ~8.6% of FTXH's total portfolio holdings.