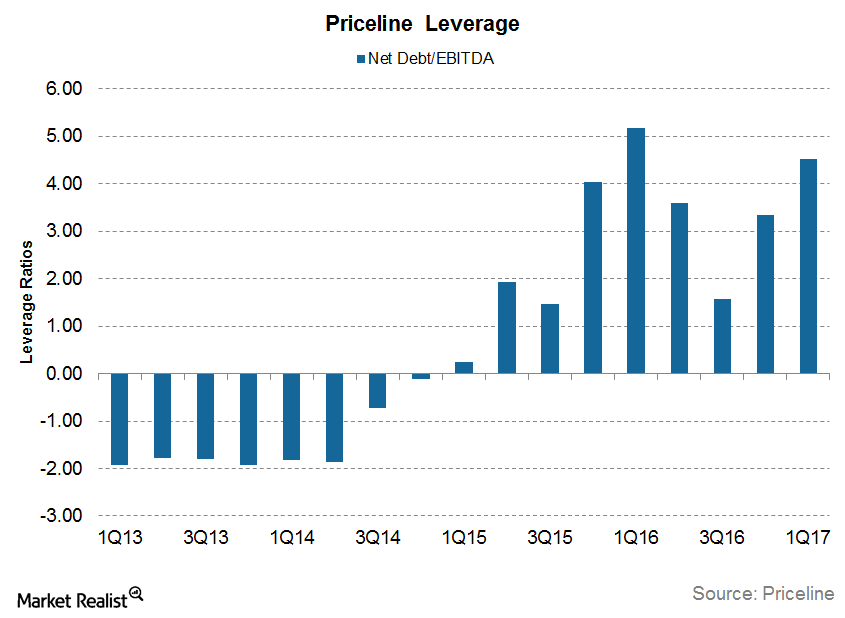 What Should We Make of Priceline's Increasing Leverage?
By Ally Schmidt

Aug. 3 2017, Updated 1:05 p.m. ET
Increasing debt
Priceline (PCLN) is well known for its growth through aggressive acquisitions. Its competitor Expedia (EXPE) has followed suit. Together, the two are often accused of creating an oligopoly in the online travel business. TripAdvisor (TRIP), with the launch of its Instant Booking platform, has tried to break that, but it has been unsuccessful so far. Other unsuccessful attempts include ones from Google (GOOGL) and Amazon (AMZN).
Article continues below advertisement
Priceline has been funding some of its acquisitions through debt. Total debt on PCLN's balance sheet has risen from $3.9 billion at the end of 2014 to $6.2 billion at the end of 2015. It remained constant at $6.2 billion at the end of 2016. However, it has risen again to $7.3 billion at the end of 1Q17 due to the Momondo acquisition.
Increasing profitability has helped Priceline improve its leverage ratios. Its net-debt-to-EBITDA (earnings before interest, tax, depreciation, and amortization) ratio improved throughout 2016. After rising to 5.1x at the end of 1Q16, its leverage fell to 3.4x at the end of 2016. However, at the end of the first quarter of 2017, its leverage rose to 4.5x despite improving profitability.
As of the end of 2016, PCLN's cash on its balance sheet was $4.3 billion. That rose to $5.4 billion at the end of 1Q17.
Peer comparison
Rival Expedia (EXPE) had a leverage ratio of 4.0x at the end of 1Q17, which was slightly lower than Priceline's. Ctrip.com International (CTRP) has a leverage ratio of 24.4x. On the other hand, TripAdvisor (TRIP) continues to be in a better position by virtue of having more cash than debt on its balance sheet.
Why is increasing leverage risky?
PCLN's growth is dependent on growth in travel demand and the US dollar. The US dollar is expected to stay strong for some time, given the deteriorating global conditions, which will dampen PCLN's growth.
High leverage and interest costs reduce Priceline's ability to cope with unfavorable conditions, thus making some investors leery of the stock.
You can gain exposure to Priceline by investing in the PowerShares Dynamic Large Cap Growth ETF (PWB), which invests 3.4% of its holdings in Priceline.