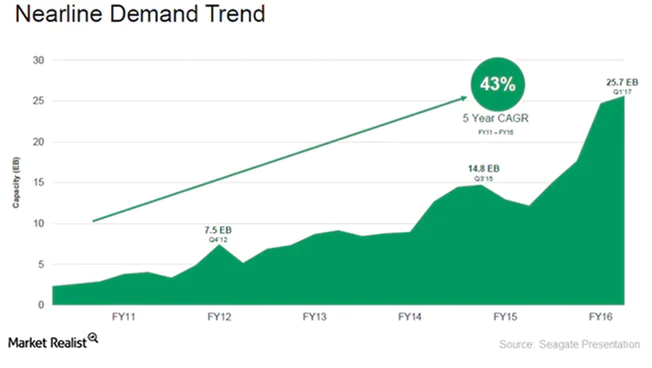 What Nearline Is Doing for Seagate
By Adam Rogers

Aug. 30 2017, Updated 7:37 a.m. ET
Increase in capacity per drive
Seagate Technology's (STX) average capacity per drive for nearline products was 4.8 TB (terabytes) in fiscal 4Q17, indicating a rise of 8% YoY (year-over-year) compared with fiscal 4Q16 and a 60% rise compared with fiscal 4Q15.
Seagate has continued to ramp up its 10 TB nearline product and shipped around 300,000 units in fiscal 4Q17. Seagate has doubled its sales for this nearline product category over the last two quarters and expects to sell one million 10 TB units in fiscal 1Q18.
Seagate stated that it started shipment of its 12 TB nearline product line in fiscal 4Q17 and has received positive customer feedback. Seagate aims to achieve 50% of total exabyte share in the 10 TB and 12 TB market by the end of calendar 2017.
Continued growth in hyperscale and cloud storage deployment presents an opportunity for Seagate. According to Seagate, its nearline HDD (hard-disk drive) portfolio is equipped to serve these storage environments.
Article continues below advertisement
Seagate COO (chief operating officer) Dave Morton stated: "Over the next 12 months to 18 months, we expect the nearline market to be diversified in capacity points for different application workloads with use cases from 2TB to 4TB products for certain applications and up to 16 terabyte for other use cases."
Growth in the nearline storage trend
Nearline shipments have grown at a significant rate between 2011 and 2016. Nearline capacity shipments have increased at a CAGR (compound annual growth rate) of 43%, from ~16 exabytes in fiscal 2012 to 69.7 exabytes at the end of fiscal 1Q17.