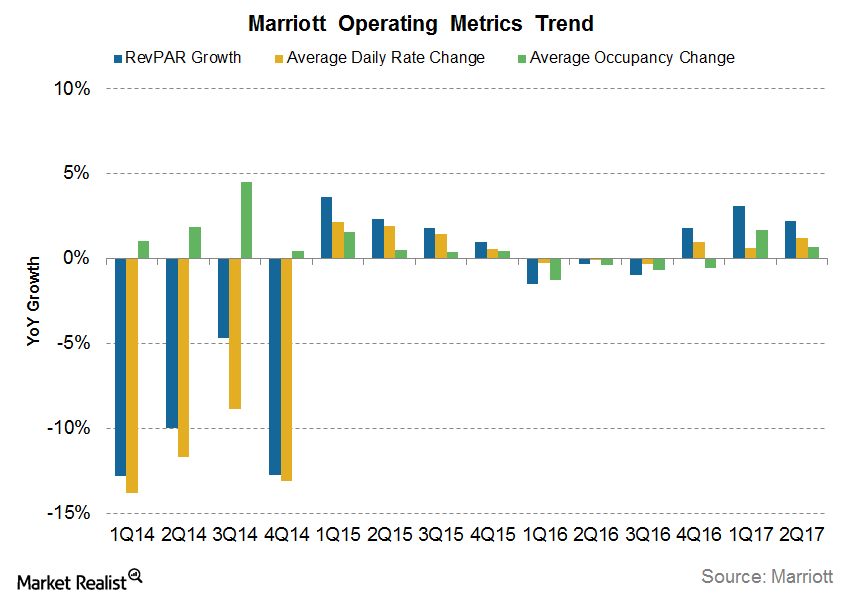 What Marriott's Key Metrics Suggest for 2017
By Ally Schmidt

Aug. 11 2017, Updated 7:36 a.m. ET
Marriott's growing RevPAR
A hotel's operational efficiency is measured by its RevPAR (revenues per available room), which is calculated by dividing a hotel's total guest room revenue by its room count. The two main factors driving a hotel's RevPAR are its occupancy rates and ADR (average daily rates).
Marriott's RevPAR for 2Q17 rose 2.2% YoY (year-over-year) in constant dollars (1.4% in actual dollars) across its worldwide properties. Its North America RevPAR rose 0.9% YoY in constant dollars (0.8% in actual dollars). Its international properties RevPAR rose 5.8% YoY in 2Q17 in constant dollars (3.1% in actual dollars).
Article continues below advertisement
Strong pipeline
In 2Q17, Marriott added ~16,000 rooms, including 2,300 rooms from competitors and 5,900 international rooms, taking the total to 1.22 million rooms across 6,254 properties and timeshare resorts.
Marriott's development pipeline rose from 420,000 rooms at the end of 1Q17 to ~440,000 rooms at the end of 2Q17. This includes the ~42,000 rooms that are approved for development but not yet subject to signed contracts.
MAR's 2017 outlook
For 3Q17, RevPAR is expected remain flat for properties in North America. Outside America, its RevPar is expected to grow 3%–5% YoY, which would lead to worldwide properties RevPAR growth of 1%–2% YoY.
For 4Q17, Marriott's North America RevPAR is expected to rise 1%–3% YoY, and outside America RevPAR is expected to grow 2%–4% YoY, leading to a 1%–3% YoY RevPAR growth worldwide.
For 2017, MAR's North America RevPar is now expected to be 1%–2% YoY, compared with its previous guidance of flat to 2% YoY growth. Outside North America, RevPar growth is expected to be in the range of 3%–5% YoY, compared with its prior guidance of 1%–3% YoY, which should lead to RevPar growth of 1%–3% YoY across all of Marriott properties, compared with its previous guidance of 0.5%–2.5% YoY growth. Marriott also expects room growth of 6% for fiscal 2017.
Together, these figures amount to strong revenue growth for Marriott. Investors can gain exposure to the Hotel Sector by investing in the PowerShares Dynamic Leisure and Entertainment Portfolio (PEJ), which has 2.6% of its total portfolio in Hyatt and 2.9% in Wyndham Worldwide (WYN). PEJ has no exposure to Marriott (MAR) or Hilton Worldwide Holdings (HLT).