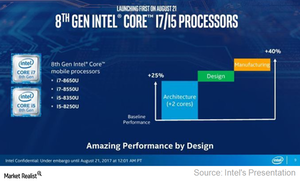 What Intel's Kaby Lake Refresh Series Has in Store for Consumers
By Puja Tayal

Updated
Kaby Lake Refresh Series
Intel (INTC) launched the first four processors in its eighth-generation Core line on August 21, 2017. These four chips—two high-end Core i7 chips and two mid-end i5 chips—are 15 W (watts) U-Series processors aimed at laptops.
The initial eighth-generation Core CPUs (central processing units) include:
9GHz (gigahertz) Core i7-8650U
8GHz Core i7-8550U
7GHz Core i5-8350U
6GHz Core i5-8250U
Article continues below advertisement
Features of Kaby Lake Refresh
Intel announced that the new eighth-generation Kaby Lake Refresh processors would offer up to 40% improvement in speed compared with the previous seventh-generation Kaby Lake processors. This speed boost would largely come from CPU, as the integrated GPU (graphics processing unit) is the same as the seventh-generation Core.
Ars Technica stated that in Kaby Lake Refresh, Intel has doubled the number of cores and threads from two cores with four threads to four cores with eight threads, which boosted its speed by 25%. It also increased the maximum clock speed from 2.8GHz and 4.2GHz. Along with other manufacturing and design improvements, this contributed to speed improvements.
Intel's Kaby Lake Refresh comes after Advanced Micro Devices (AMD) brought four cores with four threads to the budget PC (personal computer) segment with its Ryzen 3 CPU, launched on July 27, 2017. AMD has added more cores to make its CPUs perform better in multi-threaded applications.
Many analysts believe that Intel's upcoming Coffee Lake processors will feature six cores with 12 threads and will be built on a 14 nm++ (nanometer) manufacturing process.
Kaby Lake Refresh's roll out
Intel is targeting the new eighth-generation chips for customers using five-year old computers. The new chips would enable consumers to enjoy 4K video, VR (virtual reality), 3D, 360-degree video, and other recent innovations.
The company stated that PC OEMs (original equipment manufacturers) are currently developing at least 145 PCs using its eighth generation CPUs, of which about 80 are expected to be available on the market in the 2017 holiday season.
Article continues below advertisement
Some of the first laptops to use Intel's new eighth generation chips include Dell XPS 13, Asus Zenbook Flip S UX370, and Acer Nitro Spin 5. The first laptops are likely to arrive in September 2017. Acer's Nitro Spin 5, which would combine Intel Core i7 Coffee Lake CPU and Nvidia's (NVDA) GeForce 1050 GPU, would hit the market in October 2017.
Intel's eighth-generation Core line
Intel is expected to launch desktop-class CPUs by the end of 2017 and new laptop CPUs such as its 45W H-series and 4.5W Y-series in early 2018. It's also expected to launch its very high-end Core i9 CPUs by the end of 2017.
Intel has confirmed that some of the above processors will be built on the 10 nm (nanometer) node, implying that they would use Cannonlake architecture.
We'll assess Intel's other processors in the next part.